Tibetans call for independence
FIRM BELIEF: The Tibetan Youth Congress yesterday said no matter how mighty China has become, it could not stop Tibetans dying while fighting for their freedom
Although head of the Tibetan government-in-exile Lobsang Sangay repeatedly said that his administration would not challenge China's sovereignty over Tibet amid a rising number of self-immolations by Tibetans, Tibetan Youth Congress (TYC) secretary-general Tenzin Norsang reaffirmed the group's stance that only independence would be a solution to the issue.
Since 2009, as many as 70 Tibetans have set themselves aflame — one in exile and 69 living on the Tibetan Plateau — to protest against the Chinese occupation of Tibet and calling for independence, religious freedom and the return of the Tibetan spiritual leader the Dalai Lama. The latest of these cases took place on Thursday as the 18th Chinese Communist Party Congress opened in Beijing.
"I would like to say that no matter how mighty you [China] are, you are powerless, you are powerless to stop the Tibetans' struggle for freedom and you are powerless to stop the self-immolations for the cause of Tibetan independence," Tenzin Norsang told a news conference in Taipei yesterday.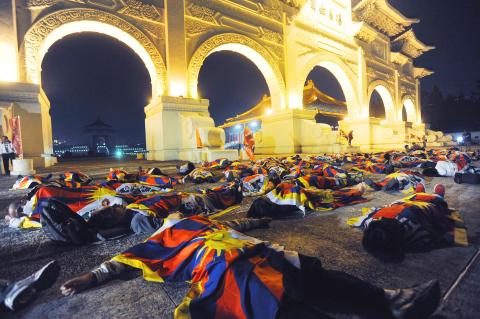 Supporters of Tibetan independence lay down outside the entrance to Liberty Square in Taipei, where the Tibetan Youth Congress yesterday held an event dedicated to Tibetans all over the world and to commemorate the many Tibetans who have set themselves on fire during protests.
Photo: Wang Yi-sung, Taipei Times
Tenzin Norsang is in Taiwan for a two-day Rangzen Conference in Taiwan organized by the TYC, scheduled to start today.
The Rangzen Conference in Taiwan is being held to prepare for next year's International Rangzen Conference to commemorate the 100th anniversary of the Declaration of Tibetan Independence by the 13th Dalai Lama in 1913.
Rangzen is the Tibetan word for "independence."
A short video showing clips of self-immolations, shot with hidden cameras or cellphones, was shown during the press conference.
China has accused the Dalai Lama and exiled Tibetans of being behind the self-immolations, and labeled Tibetans who set themselves alight as "terrorists," "thieves," "insane" and "disenchanted spouses," but Tenzin Norsang denied these accusations.
He said that all the Tibetans who have self-immolated were self-inspired and he holds the Chinese Communist Party responsible for what happens in Tibet.
He added that only independence for Tibet could end such tragedies and the suffering of Tibetans.
Regional Tibetan Youth Congress Taiwan president Tenzin Chompel expressed his worries about seeking peace through talks with China.
"The TYC supports independence for Tibet and we insist that only restoration of Tibet's independence could protect our freedom," Tenzin Chompel said.
"Negotiations with China are no use, because negotiations or agreements are China's means of deception. Just look at what happened to the 17 Point Agreement — we Tibetans would not be fooled by China again," he added.
The 17 Point Agreement refers to an agreement signed between China and Tibet after China invaded Tibet in the 1950s, in which the Chinese government promised to grant Tibetans a high degree of autonomy, while also protecting the Tibetan religion, language and culture.
Later in the evening, about 70 supporters — Taiwanese and Tibetans alike — of the Tibetan cause lay down in Liberty Square in Taipei, covering themselves with Tibetan national flags to remember those who have self-immolated.
The act was followed by a candlelit vigil and a prayer session for those who have sacrificed themselves for the Tibetan cause.
Comments will be moderated. Keep comments relevant to the article. Remarks containing abusive and obscene language, personal attacks of any kind or promotion will be removed and the user banned. Final decision will be at the discretion of the Taipei Times.