Temple urges incense rethink
UP IN SMOKE: The famous, landmark Longshan Temple says cheaper, dirtier incense is compromising air quality for visitors to the site
Longshan Temple (龍山寺) in Taipei City's Wanhua District (萬華) which is constantly inundated with devotees from Taiwan and abroad, recently called on pious worshippers to help reduce pollution by using certified incense sticks or by paying tribute through their minds.
Amid growing environmental awareness and complaints about unpleasant odors generated by the temple, authorities at the temple posted an announcement last month stating that donated incense sticks are now forbidden and devotees are encouraged to worship deities either through their hearts or with certified incense sticks which are sold at the temple.
It has become a customary practice that worshippers donate packets of incense to the temple as a demonstration of their devotion, allowing visitors to enjoy free access to the incense, which is stacked on the reception desk.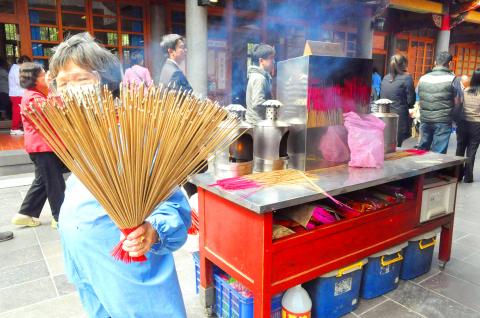 A temple worker carries incense within Hsingtien Temple in Taipei on Tuesday. Both Hsingtien Temple and Longshan Temple are encouraging worshippers to help reduce pollution by using only certified incense or simply paying tribute to temple gods with their minds.
Photo: Chiu Shao-wen, Taipei Times
"The temple is unable to conduct quality tests on these various incense donations, and many visitors have complained about strange odors and poor air quality at the temple," said Chang Hsue-lin (張雪玲), director of temple affairs. "It is for these reasons that we must decline such donations in the future to ensure the quality of incense sticks that are burnt at the temple."
The temple authorities' actions have drawn a mixed reaction among worshippers, with some grumbling that it is a pity free incense sticks have been halted, while others have questioned as to "why it is only the temple that sells the certified kind of incense?"
Despite a few dissenting opinions, the majority of devotees have given the new policy their support.
Citing as an example a man who donated ten catty (0.6kg) of incense sticks to the temple worth NT$300, a middle-aged woman worshipper surnamed Chiu (邱) said that the deed may appear to have been benevolent, but it could pose health risks to other worshippers, and the low-priced incense sticks were of unknown origin.
Another devotee, surnamed Yang (楊), lauded the new policy, saying that the approach could bring down the volume of incense sticks used at the temple and that the Chinese National Standards (CNS)-certified incense on sale at the temple contained only seven sticks per packet — just enough for the temple's seven censers.
Defending the new approach, Chang said the temple only decided to sell incense for the convenience of worshippers, who could opt to bring their own incense to the temple.
Meanwhile, Hsingtien Temple (行天宮) in Taipei's Zhongshan District (中山) has also adopted a similar approach, encouraging devotees to pay tribute with their minds rather than with incense.
However, the temple does not unequivocally bar worshippers from donating incense sticks given the opposition vocalized by nearby incense vendors, temple administrator Lee Chu-hua (李楚華) said.
Attributing Hsingtien Temple's eco-friendly policies to the unstable quality of incense sticks being donated, Ko Po-wen (柯博文) — the owner of a long-established incense manufacturer — said most worshippers tended to prize quantity above quality.
"Many people, in an attempt to express their gratitude to the deities tend to donate incense sticks in large quantities — about 10 catty's worth. They usually go for China-made incense sticks, which, despite being cheaper, are of an inferior quality," Ko said.
Ko advised people who are purchasing incense sticks for their homes to choose those manufactured in Taiwan for the sake of their health.
According to incense stick makers, while the quality of incense sticks cannot be easily judged, buyers can check details to gauge the standard.
"Taiwan-manufactured incense sticks tend to be thinner, produce less smoke and create ash at a lower temperature. When it comes to poor-quality incense the fumes they give off can irritate the eyes and the nose, and can even cause nausea and dizziness," the operator said.
Smoke from incense sticks — whether of a good or poor quality — contains chemical irritants and suspended particulates that can set off allergic reactions for people with asthma or allergies, doctors have said.
People who worship gods at home should avoid burning incense or at least maintain proper ventilation, doctors have said, advising devotees to put on a respiratory mask when visiting temples.
Lin Ja-liang (林杰樑), a specialist in clinical toxicology at Chang Gung Memorial Hospital in New Taipei City's (新北市) Linkou District (林口), said incense fumes would emit polycyclic aromatic hydrocarbons (PAHs) that contain first-grade cancer-causing benzene.
"Generally, when we are talking about poor-quality incense, we are talking about imports from China. In the absence of tests on the PAHs emitted by low-quality incense, customers should check the products' country of origin and should opt for those made in Taiwan," Lin said.
Additional Reporting by Lin Hsiang-mei and Huang Chi-hao
Comments will be moderated. Keep comments relevant to the article. Remarks containing abusive and obscene language, personal attacks of any kind or promotion will be removed and the user banned. Final decision will be at the discretion of the Taipei Times.