Anti-nuclear photos mark Japanese trip
PHOTOJOURNEY: Lee Ping-hua spent 14 days traveling around Japan, asking people to pose for photographs while holding copies of famous anti-nuclear posters
A 31-year-old Taiwanese photographer who backpacked around Japan in July found that people in the two countries, despite their different languages, share the same desire for a nuclear-free and safer planet.
Carrying an anti-nuclear cardboard sign reading "No Nukes," Lee Ping-hua (李秉樺), who only speaks broken Japanese, invited 25 groups of Japanese he encountered at random during his 14-day trip to pose for a photograph while holding copies of an anti-nuclear poster designed by celebrated Japanese illustrator Yoshitomo Nara.
Lee's idea to shoot a set of anti-nuclear themed photographs to boost awareness was spurred by the lukewarm responses Taiwanese netizens gave to the worst nuclear disasters in Japanese history following the magnitude 9 earthquake and tsunami on March 11 last year.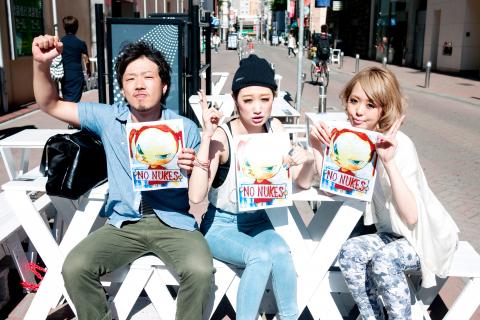 Three Japanese people hold anti-nuclear posters designed by illustrator Yoshitomo Nara in one of a series of photographs taken by Taiwanese photographer Lee Ping-hua during a trip to Japan in July.
Photo: Courtesy of Lee Ping-hua
"I was surprised to find that nuclear disasters could be so close to Taiwan," Lee said.
The 31-year-old was able to put his idea into practice after he won return air tickets from Taiwan to Japan in a lucky draw contest.
To flesh out his campaign, Lee drew inspiration from a series of anti-nuclear events staged by Nara and Japanese animator Hayao Miyazaki.
He then made several copies of Yoshitomo's "No Nukes" posters and requested his brother, an amateur painter, design a sign similar to an anti-nuclear one that Miyazaki had hung around his neck during a protest.
With four cameras in his backpack, Lee randomly stopped pedestrians and asked them to do a photo shoot with the poster using simple Japanese and body language.
Trudging from Osaka through Kanazawa to Hokkaido, Lee finished 25 sets of pictures and lost 6kg along the way.
"Before I set foot in Japan, I was already mentally prepared for rejections. While there were people who flatly turned down my request, there were also people who shared my beliefs, readily agreed to the photo shoot and even taught me how to pronounce 'nuclear power' in Japanese," Lee said.
"It was a worthwhile and productive journey," he added.
Lee's advocacy efforts were not only welcomed by Japanese, but also people in Taiwan, as the photographs he shared on backpackers.com.tw have received fervent responses and triggered widespread online discussions.
"Changes to a society, or a country, almost always hail from a small change by an individual. [What Lee has done] is rather touching," a Taiwanese netizen, identified as elisa1024, commented on the Web site.
While expressing gratitude to people who believe in him, Lee said he hoped his actions could draw more attention, as well as support, to the anti-nuclear issue.
Comments will be moderated. Keep comments relevant to the article. Remarks containing abusive and obscene language, personal attacks of any kind or promotion will be removed and the user banned. Final decision will be at the discretion of the Taipei Times.