FEATURE: Orange farmer says going organic was 'moral choice'
MAKING ORANGES GREEN: Huang Chih-chuan, 72, has faced setbacks and hardships after turning organic, but says he is determined not to sell poisonous produce
"Going organic is a moral choice and not one motivated by monetary gain," says 72-year-old Huang Chih-chuan (黃志權), a farmer who five years ago opted to stop using pesticides and grow his oranges organically.
Huang has a reputation in Yunlin County's Gukeng Township (古坑) as a successful old-school orange farmer. His orange orchard has flourished at a time when neighboring orchards are withering and dying from blight.
Huang was motivated to change his methods after seeing many of his old friends die in their fields or become ill because of pesticides.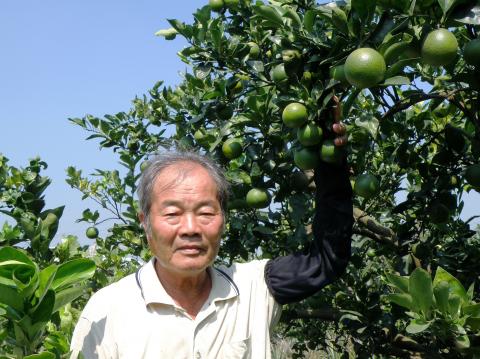 Huang Chih-chuan, an orange farmer in Gukeng Township, Yunlin County, displays his organic oranges on Saturday.
Photo: Chan Shih-hung, Taipei Times
"It really made me aware that pesticides are very poisonous, and no matter how much money one makes, it doesn't matter if you don't live to spend it," Huang said.
Many of his friends told him that turning to organic methods was unwise, but Huang persevered and said sometimes a person has to make a stand.
"I asked myself if I could live with my conscience if I was selling something poisonous to consumers, and the answer was no," Huang said.
Saying that he is willing to lose some money if it means eating healthily, Huang turned from pesticides to self-mixed probiotics, constantly updating and revising his formula with advice from consultants from agricultural research centers or other organic farmers.
Many of the aging fruit trees in his orchard have shown signs of revitalization, Huang said.
However, Huang's abrupt shift from pesticides to organic methods has not been completely without setbacks. In the five years since he changed methods, Huang has weathered tough times, including an outbreak of citrus greening disease, difficulties selling his produce and an infestation of scale insects.
Citrus greening disease affects citrus trees, which exhibit symptoms of yellowing of veins and adjacent tissues, premature defoliation and decay of feeder rootlets and lateral roots, and the sharp decline and death of the tree.
There are no known cures for the disease.
During the outbreak, Huang said he lost nearly two-thirds of his orchard's orange trees, forcing him to plant pineapples and guavas.
Prior to the outbreak in 2010, Huang had met with the awkward situation of having an entire orchard full of oranges, but no one to sell to.
Oddly, Huang's benefactors came in the form of six elementary-school children, who did not want Huang's efforts to go organic to go to waste and started a blog to help him sell his oranges at NT$10 per jin (600g).
The move helped Huang promote his produce, and now he is selling oranges at NT$25 per jin.
Huang also experienced some domestic difficulties, because his wife, Huang Chen Tsai-chun (黃陳彩君), has never really forgiven him for his decision to go organic.
Huang Chen said that in the orchard's prime years, the couple had to hire people to harvest the fruit, but that now she could harvest the entire orchard alone.
"Back in those times, the whole orchard was covered with golden fruit. Now, some of the trees barely have 20 oranges to them," Huang Chen said. "Well, if we make no money from it, I'll just treat it as exercise, as long as he [Huang Chih-chuan] is happy."
Although she often mutters about the decision, Huang Chen still shows grudging support for her husband's decision through her actions in the orchard.
Huang Chih-chuan said demand for his oranges far outstrips what the orchard can produce, but that if worst came to worst, he and his wife still had their monthly farmer's pension of NT$14,000 to fall back on.
"I have faith that the orchard will get better and better with every passing year," Huang said, adding that he would keep to organic methods of growing oranges.
Comments will be moderated. Keep comments relevant to the article. Remarks containing abusive and obscene language, personal attacks of any kind or promotion will be removed and the user banned. Final decision will be at the discretion of the Taipei Times.