NHI could disintegrate by 2025, minister says
DEMOGRAPHIC TIMEBOMB: The cost of caring for the elderly increased 88% between 2000 and 2010, and as the nation ages, by 2025, the cost will be double that of 2010
Minister Without Portfolio James Hsueh (薛承泰) yesterday warned that the second-generation National Health Insurance (NHI) program could disintegrate by 2025 because of the doubling of the elderly demographic and called for policies to address the problems of an aging society.
The population of individuals aged 65 years and over in Taiwan tripled from 2000 to 2010, and the medical costs of the age group under the NHI program have increased 88 percent to NT$169 billion (US$5.3 billion) during that period, Hsueh said in a report on the nation's population outlook in 2025 to the Chinese Nationalist Party's (KMT) Central Standing Committee.
By 2025, the cost will be more than double that of 2010, bringing more financial difficulties for the NHI program, he said.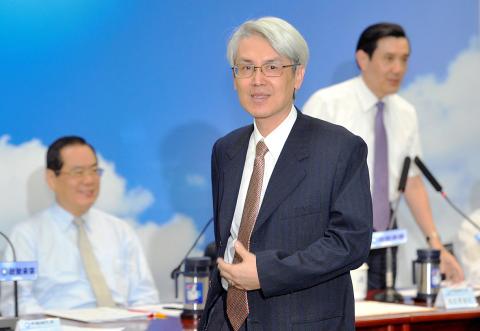 Minister Without Portfolio James Hsueh yesterday reports on demographics at the Chinese Nationalist Party's (KMT) Central Standing Committee meeting in Taipei.
Photo: Chien Jung-fong, Taipei Times
"The NHI program is an example of a government policy that was designed without taking demographics into consideration ... Without proper solutions, the program could drag the government down by 2025," he said.
The Department of Health proposed revisions to the NHI program last month under which the insured would have to pay a 2 percent premium on income of more than NT$2,000 earned from six sources: bonuses more than four times the individual's monthly salary, professional practice, share dividends, interest, rent and moonlighting. The threshold was later revised to income of more than NT$5,000.
In response, President Ma Ying-jeou (馬英九) insisted that the program would not incur any debts in the next five years and promised to find solutions.
"It's impossible for the second-generation NHI program to stay unchanged forever ... There are some difficulties in implementing the program, but we will find solutions and make the program better," he said.
Hsueh yesterday also questioned the government's policies on pensions and the increasing numbers of high schools and colleges under an aging population.
He said that more colleges would be shut down due to low attendance rates 10 years from now because of the lower birthrate, while the government will suffer from the lack of a long-term care system for the elderly.
Ma said people aged 65 and over would account for 20 percent of the total population in 2025, adding that the government had taken action to address the issue, including passing legislation on long-term care for the elderly and attracting foreign students to attend local universities.
Comments will be moderated. Keep comments relevant to the article. Remarks containing abusive and obscene language, personal attacks of any kind or promotion will be removed and the user banned. Final decision will be at the discretion of the Taipei Times.