Restrict junk-food ads, legislators say
SATURATION: A study has showed that children in Taiwan are exposed to an average of 8,325 junk-food commercials on TV each year — almost 23 per day
Legislators yesterday urged the government to restrict the broadcast of junk food commercials on children's TV channels, as well as at hours when children's programs are aired on other channels.
A study by the Child Welfare League Foundation showed that children in Taiwan are exposed to an average of 8,325 junk-food commercials a year. On average, each child sees a junk-food ad every 6.6 minutes when watching TV.
The frequency of junk-food ads increases during times when meals are usually eaten — 1.6 the number of times they are aired during other hours.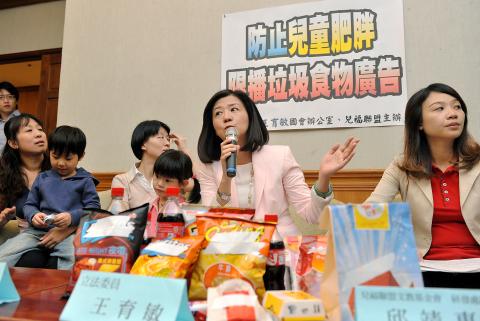 Chinese Nationalist Party (KMT) Legislator Alicia Wang, center, Child Welfare League Foundation research and development director Chiu Ching-hui, right, parents and their children attend a press conference in Taipei yesterday, calling for restrictions on junk-food ads.
Photo: Chien Jung-fong, Taipei Times
The foundation's research and development director Chiu Ching-hui (邱靖惠) said that even adults would be tempted by the ads to buy junk food, let alone young children.
The foundation's study also found that many fast-food chains encourage parents to purchase their food by giving out free toys with meals.
Chinese Nationalist Party (KMT) Legislator Alicia Wang (王育敏) said New York has banned the sale of sugary drinks in containers larger than 470ml in restaurants and other venues. Denmark and France, for their part, have taxed saturated fats and soda, respectively. Both the UK and Sweden have banned the broadcast of junk-food ads in hours when children's programs are aired.
Wang said she would propose similar measures during the current legislative session.
In response, the Food and Drug Administration said it has proposed an amendment to the the Act Governing Food Sanitation (食品衛生管理法) which would restrict ads for food that could lead to chronic diseases or are inappropriate for long-term consumption by children.
Wu Hsi-wen (吳希文), a section chief at the administration, added that the amendment would also include articles governing the suspension of broadcasts of such ads and penalties. Advertisers violating the regulations could face a penalty of up to NT$200,000 and would be fined per violation. Advertisers could also be asked to correct the content of the ad if it is deemed a serious violation and they could also be fined up to NT$600,000 if they refuse to stop airing the ads.
Jason Ho (何吉森), director of the National Communications Commission's communication content department, said that the commission has added regulations pertaining to junk-food ads to its amendment to the Satellite Broadcasting Act (衛星廣播電視法), which is being reviewed by the legislature.
Comments will be moderated. Keep comments relevant to the article. Remarks containing abusive and obscene language, personal attacks of any kind or promotion will be removed and the user banned. Final decision will be at the discretion of the Taipei Times.