Annette Lu regrets, but is not opposed to Hsieh trip
Former vice president Annette Lu (呂秀蓮) yesterday expressed "regret" over former premier Frank Hsieh's (謝長廷) announcement that he would leave for China on Thursday for a world bartending competition and to pay respect to his ancestors.
Lu made the remark in a speech to the "China Watch Symposium" in Taipei established by six pro-localization think tanks and organizations.
Lu called on Democratic Progressive Party (DPP) members who are to visit China in the future to uphold three principles: discretion, transparency and responsibility, adding that these principles should be followed particularity by the party's heavyweights.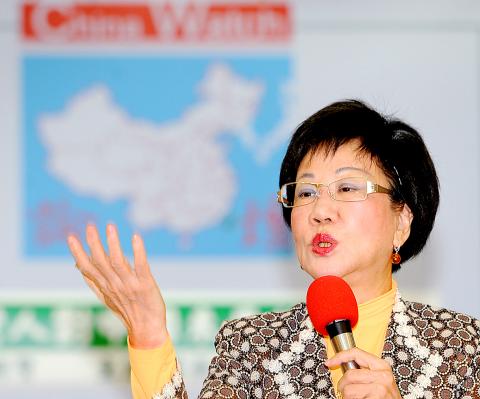 Former vice president Annette Lu tells reporters in Taipei yesterday that she hopes former premier Frank Hsieh will exercise caution on his upcoming visit to China, and that the visit will conducted in an open and transparent way.
Photo: Fang Pin-chao, Taipei Times
Lu said she would not voice opposition to or comment on any party members' plans to visit Beijing, because "after all, the DPP cannot close the door on cross-strait interactions. However, the party can give careful thought to how it opens that door."
Comparing the red-carpet receptions given to former Chinese Nationalist Party (KMT) chairman Lien Chan (連戰) during his visits to China with what might be given to Hsieh, Lu cautioned that if Hsieh, who is to become the first DPP heavyweight to visit China, is not given equivalent treatment, the visit could be "a severe degradation" for the DPP.
"If Hsieh fails to receive a proper reception, other less senior DPP members may get even worse treatment if they visit China," Lu said.
Despite having received several invitations to visit China in the past few years, Lu said she was not tempted to do so because of her previous role as the country's vice president for eight years.
"For the sake of Taiwan, I will consider the possibility of visiting China only if such a visit is made with proper arrangements, with dignity an absolute necessity," Lu said.
Lu said that while many people were still of the opinion that the pro-independence party tended to oppose any matters associated with China, that was not the case.
"Even if such a mindset used to exist, it does not anymore," Lu said.
Citing a letter of advice she wrote to China that was published to coincide with the symposium, Lu said the relationship between both sides of the Taiwan Strait should resemble that of two neighbors.
"While there is only one China in the world, there is also one Japan and one US. Taiwan was under Japanese colonial rule for about half a century and under the direct influence of the US for almost four decades, but none of these countries have ever claimed Taiwan as their own. Given this, why is Taiwan 'forcibly' part of China?" Lu wrote in her letter.
In lieu of the "one China" principle, Lu said Taiwan and China should develop a more substantial relationship based on the concept of "distant relatives and close neighbors," which tallies with historical facts.
Saying that the "China threat" has arrived on Taiwan's doormat or even barged into the country, Michael Hsiao (蕭新煌), chairman of Academia Sinica's Institute of Sociology, urged Taiwan to embrace pragmatic thinking on issues pertaining to China, rather than clinging to romantic expectations.
"The false appearance of peaceful cross-strait reunification that has been created by visit after visit from Chinese government officials, who many of their Taiwanese counterparts seem to be busy buttering up, and the scores of retired Taiwanese politicians and businessmen who go to China to seek personal gain should be righted," Hsiao said.
Comments will be moderated. Keep comments relevant to the article. Remarks containing abusive and obscene language, personal attacks of any kind or promotion will be removed and the user banned. Final decision will be at the discretion of the Taipei Times.