DPP split over benefits of Hsieh's Beijing trip
The Democratic Progressive Party (DPP) is expected to address the issue of China a lot this week, including whether former premier Frank Hsieh (謝長廷) is to become the first former DPP premier to visit China, Lin He-ming (林鶴明), a spokesperson from Hsieh's office, said yesterday.
While arrangements for relevant paperwork, air tickets and accommodation are ongoing, Hsieh's trip to Beijing for a world bartending competition still remains tentative.
"Once the invitation [from the International Bartenders Association] has been confirmed and the decision has been made, Hsieh will call a press conference as well as submitting a report to DPP headquarters as required," Lin said.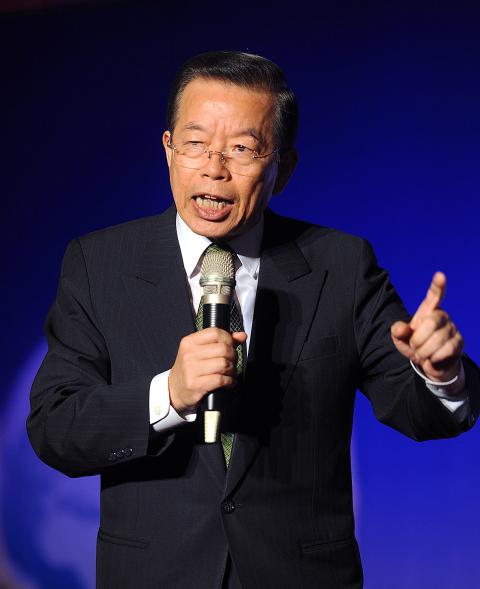 Former premier Frank Hsieh speaks at the Green 21 Taiwan Alliance Mid-Autumn Festival dinner on Saturday.
Photo: Fang Pin-chao, Taipei Times
Hsieh has repeatedly played down the implications of his possible visit, but the move has prompted intense discussions within the party and with members of the opposition group split over the issue.
Several politicians, including DPP Legislator Tuan Yi-kang (段宜康) and former legislator Lin Cho-shui (林濁水), supported the visit which they said could initiate the party's exchange with Beijing. Some were against the trip, arguing that the timing of the visit — coming just ahead of the Chinese Communist Party's (CCP) 18th Congress and before the DPP reaches a consensus on its much-debated China policy — is not right and that the trip would only be of personal benefit to Hsieh.
DPP Chairman Su Tseng-chang (蘇貞昌), who has pledged more understanding and interaction with Beijing since assuming the party's helm in May, has remained tight-lipped on Hsieh's visit.
Su is scheduled to attend a symposium organized by his Eball Foundation tonight for a one-on-one dialogue with former National Security Council deputy secretary general Chiang Chun-nan (江春男) which is set to address "How Deng Xiaoping (鄧小平) changed China."
The chairman is set to host the fourth and final session of the China Forum, the second installment of the DPP's Open Studio forum, in which panelists are to discuss human rights in China before visiting Kinmen on Thursday.
It is unclear if Su is to address the issue of China in Kinmen, an island which was once a Cold War frontline and sustained heavy bombardment during the first Taiwan Strait crisis between 1954 and 1955.
Comments will be moderated. Keep comments relevant to the article. Remarks containing abusive and obscene language, personal attacks of any kind or promotion will be removed and the user banned. Final decision will be at the discretion of the Taipei Times.