Change in SEF position proves 'political reward': DPP
The Straits Exchange Foundation (SEF) board's decision to make its chairman a paid position showed the appointment of Lin Join-sane (林中森) was a "political reward," DPP lawmakers said yesterday.
A SEF board meeting yesterday confirmed the appointment of Lin and amended its organizational regulations, changing the position without remuneration to a paid position, DPP Legislator Hsiao Bi-khim (蕭美琴), who serves as a board member of the foundation, told a press conference.
Former SEF chairpeople, including outgoing Chiang Pin-kung (江丙坤), worked for the foundation, which functioned as a negotiation institution for cross-strait affairs, without pay.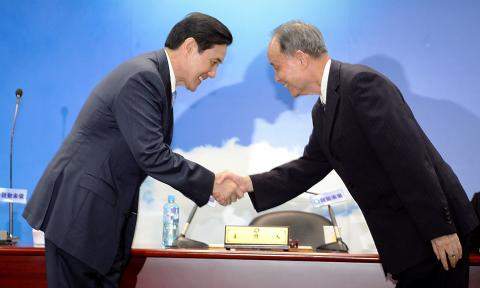 President Ma Ying-jeou, left, shakes hands with the newly appointed Straits Exchange Foundation Chairman Lin Join-sane at a Chinese Nationalist Party (KMT) secretary-general handover ceremony in Taipei yesterday.
Photo: CNA
Hsiao said the amendment was likely a tailor-made decision for Lin, who made NT$200,000 (US$6,800) per month in his previous job as Chinese Nationalist Party (KMT) secretary-general.
Since SEF Vice Chairman Kao Koong-lian (高孔廉) is paid NT$235,000 a month, Lin could earn about NT$300,000 per month, DPP Legislator Pasuya Yao (姚文智) said.
DPP Legislator Chen Chi-mai (陳其邁) quoted a previous comment by Chiang, who described his job as "simply signing your name on the dotted line and reading prepared speeches," as saying that the honorary position "is not worthy of NT$300,000 a month."
Chen added the DPP caucus would overrule the amendment in the legislature.
Chiang cited the fact that he did not make a penny from the position as the reason for his refusal to report to the legislature and be questioned by lawmakers.
DPP Legislator Lee Chun-yi (李俊俋) said Lin could be paid if he can accomplish five tasks: ensure Beijing notifies Taiwan of any detention of a Taiwanese national within 24 hours, resolving all trade disputes, acquiring compensation for the 2008 Chinese milk scandal, bringing all fugitives in China back to Taiwan and having China remove all missiles targeted at Taiwan.
Separately yesterday at the KMT secretary-general handover ceremony, Lin acknowledged his lack of knowledge and experience on cross-strait affairs before taking over the post and pledged to devote himself to maintaining peace across the Strait.
President Ma Ying-jeou (馬英九), who is KMT chairman, yesterday defended the appointment of Lin, saying expected Lin to strengthen cross-strait exchanges in the future.
"Lin is unfamiliar with handling cross-strait affairs, but as a former Executive Yuan secretary-general and KMT secretary-general, he is very familiar with administrative affairs and has excellent communication skills. I believe he will further promote cross-strait exchanges," he said.
Chiang, who tendered his resignation last week prior to the announcement of the personnel reshuffle, formally stepped down yesterday.
In a farewell luncheon, he thanked Ma for giving him the opportunity to "make history" by presiding over the eight rounds of cross-strait negotiations and completing the signing of 18 cross-strait agreements, including the Economic Cooperation Framework Agreement (ECFA).
Comments will be moderated. Keep comments relevant to the article. Remarks containing abusive and obscene language, personal attacks of any kind or promotion will be removed and the user banned. Final decision will be at the discretion of the Taipei Times.