Accusations fly at meeting on parole for Chen
Minister of Justice Tseng Yung-fu (曾勇夫) yesterday said Taipei Prison counted 22 prisoners who were granted medical parole, most of whom suffered from serious conditions including advanced cancers, intracerebral hemorrhage caused by stroke, heart failure and other ailments, adding that former president Chen Shui-bian (陳水扁) did not suffer from such conditions and was therefore not eligible for medical parole.
Tseng made the remarks at a legislative Judiciary and Organic Laws and Statutes Committee meeting to answer questions by legislators on Chen's medical check-ups and treatment.
Chinese Nationalist Party (KMT) Legislator Hsieh Kuo-liang (謝國樑) said the public wanted to know why the ministry chose the Taipei Veterans General Hospital (TVGH) for Chen's medical check despite objections from Chen's family.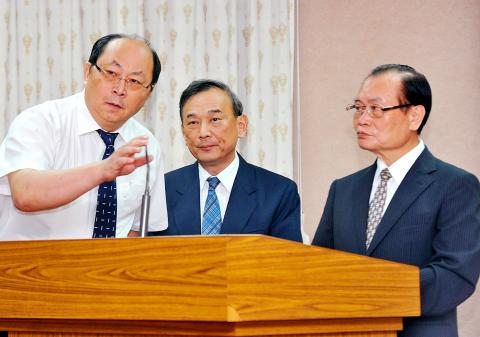 Taipei Prison warden Fang Tzu-chieh, left, Vice Minister of Justice Chen Ming-tang, center, and Minister of Justice Tseng Yung-fu, right, answer questions about former president Chen Shui-bian at a Judiciary and Organic Laws and Statutes Committee meeting in the legislature in Taipei yesterday.
Photo: Chien Jung-feng, Taipei Times
Tseng asked Taipei Prison warden Fang Tzu-chieh (方子傑) to answer the question.
Fang said the prison suggested five hospitals to which Chen could be sent and Chen said he did not want to go to Tri-Service General Hospital or Chang Gung Memorial Hospital in New Taipei City's (新北市) Linkou District (林口).
The former president said he preferred to go to Mackay Memorial Hospital and that he did not rule out going to the TVGH, Fang said.
Fang said the prison also contacted Chen's son, Chen Chih-chung (陳致中), and that Chen Chih-chung said his father could go to National Taiwan University Hospital (NTUH) or TVGH.
Fang said the prison had records of the conversations and they could be made public if necessary.
Democratic Progressive Party (DPP) caucus whip Ker Chien-Ming (柯建銘) accused Tseng and Fang of lying.
"When did Chen Chih-chung say Chen Shui-bian was willing to go to the TVGH?" he asked.
"How often did you report the Chen Shui-bian matter to President Ma Ying-jeou [馬英九]?" he asked Tseng, adding: "I suspect Ma was directing the ministry on handling Chen's matter."
Tseng said: "I never discuss Chen's matter with President Ma."
"You are lying," Ker said.
The ministry always thinks "Chen is pretending he is ill," Ker said.
The former president, who is serving a 17-and-a-half-year sentence for corruption, was admitted to Taoyuan General Hospital on Sept. 12 after complaining of having difficulty urinating.
An MRI scan carried out by the Taoyuan hospital showed that Chen had had a minor stroke. Based on the hospital's recommendation, the ministry decided to transfer Chen to a different medical center for further examination.
Chen's family had said it would prefer the former president be taken to Mackay Memorial Hospital in Taipei or one in southern Taiwan, adding that the TVGH is "politically affiliated" with the KMT.
Meanwhile, Chen Shui-bian's office issued a three-point statement demanding a "complete, professional and trustworthy" physical examination for the former president as well as transparent information disclosure and joint review of medical records by the hospital, Chen's family and his medical team throughout the entire treatment process.
The office also demanded Chen's examination results be disclosed and explained by the hospital, rather than the non-medical institutions, such as the Ministry of Justice and the Taipei Prison.Additional reporting by Chris Wang
Comments will be moderated. Keep comments relevant to the article. Remarks containing abusive and obscene language, personal attacks of any kind or promotion will be removed and the user banned. Final decision will be at the discretion of the Taipei Times.