Hundreds of wanna-be birds prepare to fly in Birdman event
Sixty teams and 280 competitors including a giant cucumber, Angry Birds and an insect man are expected to crowd the sides of Breeze Canal (微風運河) in New Taipei City's (新北市) Lujhou (蘆洲) on Saturday as they fine-tune their vehicles and trim their costumes for the Taiwan Birdman, a human-powered flight competition that was first held in 2004 and then suspended after three editions.
After a five-year hiatus, the Birdman contest is back in full swing, drawing past title-holders and novice flyers to compete for cash prizes totaling NT$520,000 (US$8,442). In addition, the organizers have collaborated with the International Bognor Birdman, the world's first Birdman event, and invited the British contest's newly crowned champion, Ron Freeman, to perform a flight in Taipei.
A former hang-gliding world champion, Freeman has participated in the Bognor Birdman contest since 1997 and has won the event 11 times. His personal best at the Bognor is an impressive 83.3m flight.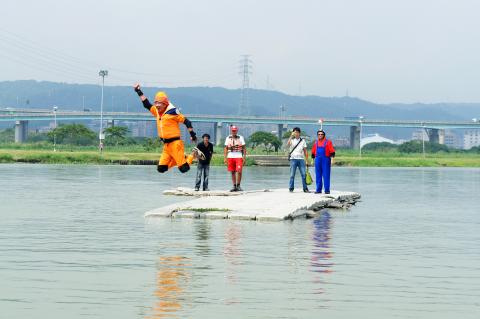 Chen Hsi-hui, an official in the New Taipei City Government's Water Resources Department, jumps while dressed in an orange suit yesterday to promote the Taiwan Birdman contest scheduled for Saturday.
Photo: Lai Hsiao-tung, Taipei Times
When comparing the environment in England to Taiwan's, the Englishman said that everything is "very different."
"The weather is hot and humid. The lake is calm and flat, which is good. In Britain, we jump into the sea, and it is tidal and wavy," Freeman said. "This is exciting. I really look forward to doing a flight here."
Freeman said that in England the competition can last only two hours with the number of participants limited to about 45 because it is not safe to jump into the ocean during low tide. He also said that when the air is hot, flyers need to run faster before take-off.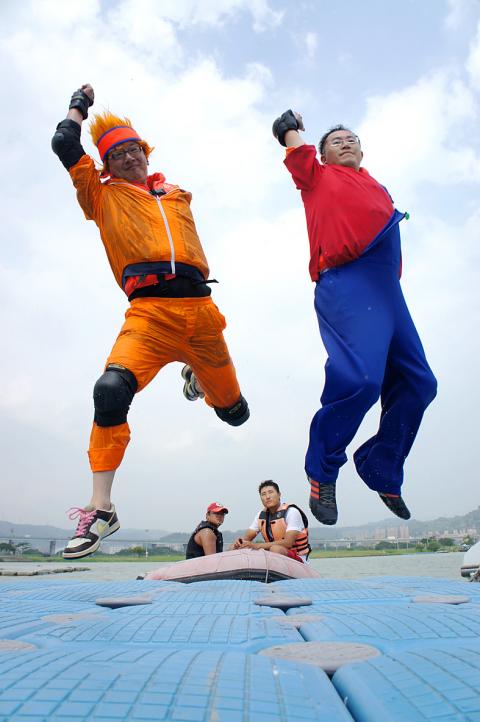 Chen Hsi-hui, left, and New Taipei City Councilor Lee Kun-cheng yesterday promote the Taiwan Birdman event.
Photo: Lai Hsiao-tung, Taipei Times
"I think here you need to run six to seven mph," he added. "The best time to fly will be early morning."
Since its inception in 1971, the Bognor Birdman has drawn tens of thousands of visitors to the seaside resort of Bognor Regis in England every summer and inspired many similar events in different countries including Japan, Australia, France and China.
In Taipei, Chang Tsung-hui (張宗輝) remains unbeaten with the 33.6m flight he made in 2004. This year, he is aiming to fly 40m.
"Our take-off platform is about 5m high, while the launch ramp used at the Bognor is 10m high," Chang said. "The higher the platform is, the further the flight."
Weather conditions also play a key role in flying, Chang said, adding that the type of headwinds flyers like the most are "neither too strong nor too weak."
As far as technique is concerned, Chang said it is all about angling.
At the Taiwan Birdman, creativity, innovation and flying skills are all encouraged with a set of award categories. The winner of the distance contest will not only be awarded with a NT$190,300 prize, a figure said to pay tribute to the Wright brothers' first flight in 1903, but will receive a paid trip, including accommodation, to take part in the Bognor Birdman in August next year.
The flying competition will start at 10:30am and run through 5pm. For visitors, a free shuttle bus service running every 20 minutes between the riverside park and Luzhou, Sanchang (三重) and Xianse Temple MRT stations will be provided.
Comments will be moderated. Keep comments relevant to the article. Remarks containing abusive and obscene language, personal attacks of any kind or promotion will be removed and the user banned. Final decision will be at the discretion of the Taipei Times.