Taiwan seeks China Sea peacemaker role
DEEP SEA ISSUES: The wealth of the region's seas should be peacefully explored for the mutual benefit of all, a government security official has said, while visiting Taping Island
Taiwan is determined to become a peacemaker in the disputed South China Sea, National Security Council (NSC) Secretary-General Hu Wei-jen (胡為真) said on Friday during a visit to Taiping Island (太平島).
"With 60 years of experience in administering Taiping Island, we can serve as a humanitarian aid provider, anti-global warming practitioner and peacemaker in the region," Hu said.
Hu and several other senior officials visited Taiping Island — the largest isle of the Spratly Islands (Nansha Islands, 南沙群島) in the South China Sea — on Friday to reinforce the country's claim to the vast ocean area and the chain of islands there amid an escalating territorial dispute among neighboring countries.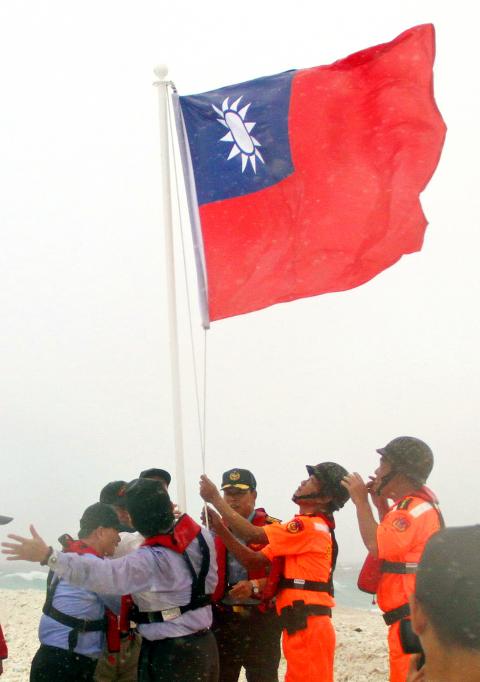 A handout picture received yesterday from Taiwan`s National Security Council shows members of Taiwan`s coast guard raising the national flag at Taiping, the biggest islet of the disputed Spratlys on Friday.
Photo: AFP
In addition to extending President Ma Ying-jeou's (馬英九) concern for coast guard, navy and air force officers stationed on Taiping Island, the group of officials also landed on Chungchou Reef located 3.1 nautical miles (5.7km) east of Taiping Island, where they hoisted a Republic of China flag, the NSC said in a press statement.
The flag-raising ceremony signified the government's determination to defend its sovereignty over the region, the statement said.
Hu was quoted as having reaffirmed at the occasion that Taiwan's sovereignty is indisputable, but that disputes can be solved as long as all claimants work together peacefully to explore resources for mutual benefit.
He also urged all neighboring countries to respond to Ma's East China Sea peace initiative by putting aside territorial disputes, replacing confrontation with dialogue, settling spats through communications and jointly prospecting for South China Sea resources to make the ocean peaceful and prosperous.
Taiwan has set up a hospital on Taiping Island so it can provide emergency medical treatment, Hu said, adding that Taiwan can serve as the region's provider of "humanitarian aid."
Taiwan has opened a solar power facility on Taiping Island to help cut carbon emissions and fulfill its international duty of working to combat global warming, he added.
Most important, Hu said, Taiwan is more than willing to share its decades-long experience in managing the Spratly's largest islet and partner with neighboring countries to protect freedom of navigation and promote maritime ecological conservation in the area.
The South China Sea and its archipelagos, thought to be rich in oil deposits and marine biodiversity, are claimed either entirely or in part by Taiwan, China, Vietnam, the Philippines, Malaysia and Brunei.
Covering an area of 0.49km2, Taiping Island lies about 1,600 km southwest of Kaohsiung in southern Taiwan.
On Aug. 20, the Ministry of Foreign Affairs said Taiwan had informed its regional neighbors that it planned to conduct a live-fire training exercise on Taiping Island set to begin yesterday and run until the 5th of the month.
"The countries were informed so they will be able to warn their ships to avoid the waters near Taiping Island during the routine exercise," ministry spokesman Steve Hsia (夏季昌) said.
In an effort to beef up regional defenses, the Ministry of National Defense delivered a shipment of 40-mm anti-aircraft guns and 120-mm mortars to Taiping Island early last month.
Comments will be moderated. Keep comments relevant to the article. Remarks containing abusive and obscene language, personal attacks of any kind or promotion will be removed and the user banned. Final decision will be at the discretion of the Taipei Times.