INTERVIEW: Bruce Chung tells of detention hell
Taiwanese Falun Gong practitioner Bruce Chung returned to Taiwan on Aug. 11 after being detained for 54 days by Chinese authorities. He said in a recent interview with Tzou Jiing-wen, a staff reporter with the 'Liberty Times' (sister paper of the 'Taipei Times') that the most basic duty of any government should be to protect its people's personal safety, adding that personal safety of Taiwanese should be the government's guiding principle and that China must be informed of the Taiwanese government's resolve on the issue
Liberty Times: Could you explain in detail how you were detained in China?
Bruce Chung (鍾鼎邦): I have relatives in China and I had made multiple visits to see them prior to 2003. After I joined the Falun Gong in 2003 I helped to ship equipment capable of hijacking Chinese TV signals, I felt that it was no longer safe for me to visit China.
Just this year, my late father's former wife said she missed me very much and asked me to visit. I thought that given the fact that it had been many years since I had shipped the equipment things should have died down a bit, so I agreed to go. I did not expect such an event to occur.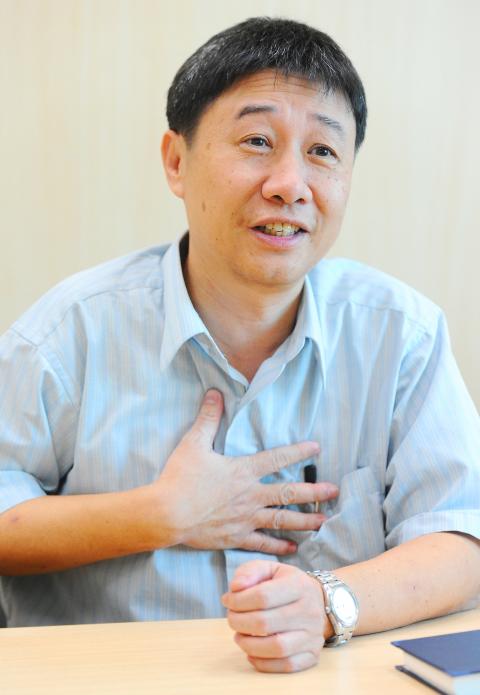 Bruce Chung gestures during an interview with the Liberty Times on Aug. 16.
Photo: Chang Chia-ming, Taipei Times
I arrived in Jiangxi Province's Ganzhou in mid-June and after my trip was over, I was ready to board a plane to Shenzhen in order to catch a flight to Hong Kong and from there to travel back to Taiwan when I was stopped by airport personnel who said there were issues with my luggage.
They took me into a room occupied by seven or eight personnel from the Ganzhou branch of the Ministry of State Security. They simply told me that I had done things to endanger national security and were taking me away.
Despite telling them such an action was akin to kidnapping and is forbidden, they still took me to the ministry's Ganzhou reception center where I was kept under surveillance for 53 days until I was allowed to return to Taiwan.
On the first day, I demanded to see my lawyer and told the ministry personnel to contact my family and tell them where I was being held, but when they refused to heed my demands and did not offer any legal assistance, I sought to express my protest through a hunger strike.
I was finally able to meet with my niece from Ganzhou on the second day. However, they also agreed that night to let me call Taiwan and inform my family where I had been taken.
Despite this concession, for the duration of the period afterward and even during long hours of questioning, there were no lawyers present.
At the reception center, ministry personnel divided themselves into five shifts per day, with two people on each shift monitoring me. This surveillance continued into the night and I was told I was not to lock the door when I was bathing or using the toilet.
Though they did not physically hurt me during their questioning, there were other measures. For instance, they originally gave me a chair with a seated back, but after I refused to answer their questions, they brought in a stool. After they changed the chair, a large man — who exuded aggression — rushed in and threatened that if I continued to act like this, they could worsen my accommodation and treatment.
They hauled me off for questioning a lot and sometimes I would be in a room for seven to eight hours. I did not cooperate at first, but an interrogator once said that another team was waiting outside and was poised to enter the cell.
One of them said: 'If there are no results from our more humane methods of questioning, I think you can imagine what would ensue, Mr Chung.'
LT: China has accused you through Xinhua news agency of gathering classified documents and inciting Chinese civilians to destroy broadcasting equipment over the past 9 years. Is there any truth in these claims?
Chung: Taiwanese Falun Gong members use the Internet, telephone, fax and texts to tell people on the Mainland about our practices and beliefs. Falun Gong is widespread globally because it is a real belief. We also tell them that the self-immolations by Falun Gong practitioners at Tiananmen Square are Chinese Communist Party (CCP) fabrications designed to whip up popular hatred for the religious group.
There was a Mainland Falun Gong practitioner who understood how the government there was seeking to smear the religious group and I asked him to provide documents on how the CCP had launched the campaign. For that I was accused of having gathered classified information.
The second accusation refers to the equipment that I had sent to China, which is capable of beaming wireless TV signals and can be installed in television sets that subscribe to cable services. These functions help to both interrupt on-air shows and also play videos about the Falun Gong.
I also used satellite equipment to broadcast signals to existing broadcaster satellites — in essence covering their signals — for which I am accused of endangering national security.
The Falun Gong is oppressed and demonized in China and I sought to reveal to the Chinese people the truth about Falun Gong, so those who have been wrongly accused can speak out on religious freedoms. It is that simple.
After this experience, I am much clearer now about how the CCP uses its ministries to oppress Falun Gong practitioners and it is evident that the oppression extends not only to Chinese citizens, but also against foreigners as well.
I could see that the CCP government did not want its civilians to know that I was a Falun Gong practitioner seeking to help Chinese civilians understand the hidden truth about the religious group because they never talked about the Falun Gong at all.
LT: We know that you wrote and signed a letter of repentance and China has also said that you confessed to co-workers. What is the truth about that?
Chung: They said it would be easier to report to their superiors and get them to let me go if I signed the document and that was also videotaped. There were some phrases that they did not like and I was forced to change it and they remade a video of the process every time. I was forced to sign it because I wanted to come back to Taiwan and it was done reluctantly and not of my own volition.
During the interrogation, they really wanted to know precise details about how I had sent frequency cut-in equipment to China and about my participation in the hijacking of their satellite signals. They also wanted to know who the important members of the Falun Gong were in Taiwan.
I just took whatever data they gave me and dragged the whole process out until I met with a lawyer on July 11 — the lawyer had taken cases for Falun Gong members before — whom my Chinese relatives had hired for me.
However, the ministry kept me under surveillance, even when I met with my lawyer and I was unable to say things freely. The whole interrogation process ended around July 15.
One of the non-negotiable conditions the Chinese authorities set for my release was to divulge my list of accomplices and many of the things I said I did were purely fiction and I also kept silent on any of the Falun Gong activities going on within China.
LT: When did you know you were going to be allowed to return to Taiwan?
Chung: I only learned that I was to be allowed to return to Taiwan the morning before they let me go. They said they would be sending me to Nanchang City overnight and then back to Taiwan the next morning.
There were of course some events that occurred during the transition, mainly that they had arranged for a local TV channel to conduct an interview about my admission of guilt and repentance.
When we arrived at the airport the next day, the provincial government held a ceremony to mark the conclusion of the case. The details of the event were read out by the provincial governor who also said that I had pleaded guilty to a series of crimes and repented. I was then asked if I was willing to honor my part of the deal.
In order to return to Taiwan, I answered most reluctantly that I would honor my promises before I was allowed to board the plane.
Prior to my departure, I was chatting with people in the reception center. They told me that although I had been held for 54 days, the total amount of time they had spent on my case — including the time of my forced detention— amounted to 60 days.
I asked if that meant they had been preparing to apprehend me even before I left Taiwan, they smiled in reponse.
Translated by Jake Chung, Staff writer
This is part I of a two-part interview. Part II will be published tomorrow.
Comments will be moderated. Keep comments relevant to the article. Remarks containing abusive and obscene language, personal attacks of any kind or promotion will be removed and the user banned. Final decision will be at the discretion of the Taipei Times.