Actor, business leaders awarded by kids' charity
HEART OF GOLD: Actor Lin Ching-tai was given the award for supporting the foundation for economically disadvantaged families that had helped him as a child
Actor Lin Ching-tai (林慶台) and four business leaders were awarded the Golden Support Award from the Taiwan Fund for Children and Families (TFCF) for helping children from economically disadvantaged families — help that they themselves received in their childhood.
"In those years, it was the TFCF that brought me up," Lin said upon receiving the award. "Without the TFCF, I would not be here."
Born in an Atayal Aboriginal family in Nanao Township (南澳), Yilan County, Lin's family suffered when his father passed away when he was five, leaving behind a single mother with four children to raise, Lin said.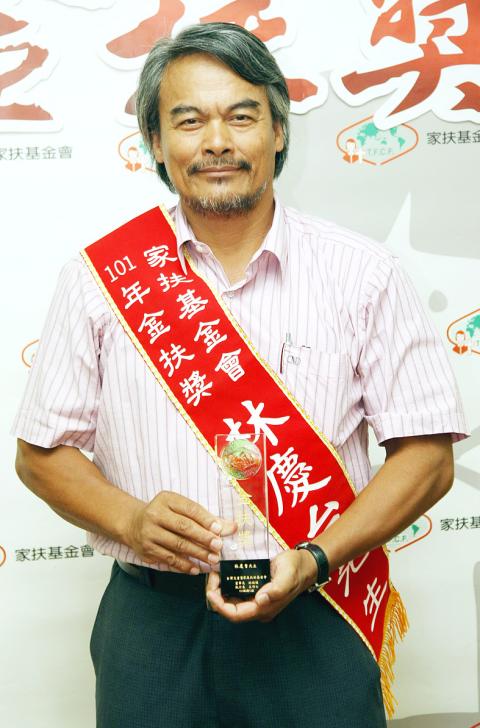 Actor Lin Ching-tai receives an award yesterday at a ceremony held by the Taiwan Fund for Children and Families at the Grand Hotel in Taipei.
Photo: CNA
With the help of the TFCF, Lin later became a preacher and was chosen to play the role of the old Mona Rudao in the movie Warriors of the Rainbow: Seediq Bale (賽德克巴萊), which tells the story of the armed resistance of the Sediq Aboriginal tribe against Japanese colonial rule in 1930.
"I was once lost, without goals in my life, I was an alcoholic and a gangster when I was in junior-high school," Lin said, adding that TFCF never gave up on him.
The group sponsored his tuition fees from third grade to eighth grade and volunteers would come visit him at his house every six months, bringing clothes and money.
"One day, I felt that I couldn't keep wasting my life like that, so I decided to go to a theological school and become a preacher," he said. "I'd like to urge the public to show love to disadvantaged kids, give them a helping hand so they can overcome the difficulties that they face in life."
Another award recipient, Chien Ming-cheng (簡明正), a manager at the Taiwan-based semiconductor manufacturer TSMC, also shared a similar story.
"My family lived in a small rented house built with tin sheets that cost NT$500 a month," Ho said. "The TFCF gave us NT$300 per month, which we used to help cover the rent."
To save on the electricity bill, Ho said that he had often studied at night in a small nearby temple.
"When I went to college, the TFCF organized support groups for us TFCF-sponsored children," Ho added. "So it not only provided financial support, but also gave emotional support and made me feel like that I was part of a big family."
To show his appreciation for the support he once received, Chien now donates NT$100,000 per month to the TFCF, hoping to help many economically disadvantaged children.
Other recipients of the award were Lin Tiao-chin (林條金), a metal tube company owner, Wang Chi-chun (王吉俊), owner of a computer parts wholesaler, and Chen Chi-hsiung (陳啟雄), a professor at National Yunlin University of Technology.
TFCF executive director Miguel Wang (王明仁) said that since the group was founded in Taiwan 62 years ago, it has helped more than 170,000 children from disadvantaged families and inspired the public to do charitable actions.
Comments will be moderated. Keep comments relevant to the article. Remarks containing abusive and obscene language, personal attacks of any kind or promotion will be removed and the user banned. Final decision will be at the discretion of the Taipei Times.