Government tries to save 'live' history
LEST WE FORGET: Racing against time, the Ministry of Culture is interviewing the survivors of the White Terror to record their views on rights and memories
The government is racing against time to preserve oral histories of survivors of the White Terror before they pass away, Minister of Culture Lung Ying-tai (龍應台) yesterday said at the Jingmei Human Rights Memorial and Cultural Park, where she met several former political prisoners, academics and human right activists and asked their advice on the National Human Rights Museum currently under preparation.
The planned museum includes a culture park in Jingmei, which once served as a military detention center where political dissidents were tried from the late 1960s to the 1980s, as well as a 32 hectare memorial park on Green Island (綠島) that was used to imprison prisoners of conscience.
A preparatory office was set up in December last year, and its current task is to collect, restore and manage documents and information relating to prisoners and victims from 1949, when martial law was declared in Taiwan until 1987, when it was lifted, government officials said.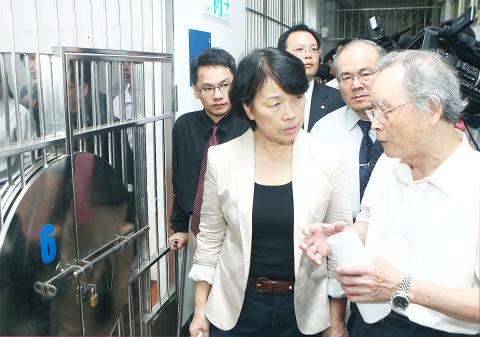 Minister of Culture Lung Ying-tai, center, along with victims of the 228 Incident and their families yesterday visit the Jingmei Human Rights Memorial and Cultural Park in the Sindian District of New Taipei City.
Photo: Hu Shuan-shiang, Taipei Times
Former political prisoner Liu Chia-chin (劉佳欽) said that it was urgent to form a consultative committee so that different voices and suggestions could be heard and adopted by the museum. He also urged the government to focus its limited budget and resources on people and content rather than facilities.
To reach a larger number of people, former prisoner Chen Sung (陳松) suggested the museum recruit interested college and university students to do internships and volunteer work so that younger generations could learn about the nation's past.
On the issue of oral history preservation, human rights activist Chen Ming-cheng (陳銘城) said that there was not enough time for museum staff to conduct one-on-one interviews with survivors, most of whom are in their 70s and 80s.
"We can do a lot more if local governments team up with local cultural and historical societies, as well as victim groups, to do the job," Chen Ming-cheng said.
Academia Sinica research fellow Wu Nai-teh (吳乃德) echoed Chen Ming-cheng's view, adding that it takes time to build trust between the government and victims' families.
"It is difficult for the families to trust the government that once oppressed them. Donating personal objects and documents are just the beginning. The next step is to let the families know how their donations will be preserved, displayed and used. It's another main task of the museum," Wu said.
The researcher also said the National Archives should make public the classified files relating to political cases during the White Terror era. The access to original files has been limited even to family members seeking to understand what happened, Wu added.
Lung promised to negotiate with the National Archives on the matter, saying she was stunned when first learning that even now "it is difficult for family members to obtain letters left by their loved ones before they died."
At yesterday's meeting with Lung, Chen Meng-ho (陳孟和), who was jailed at Green Island's New Life Correction Center for 15 years, donated an oil painting depicting what the island looked like during the White Terror era to the museum and invited Lung to pay a visit to Green Island, not as "an governmental official," but as "a cultural worker."
During his imprisonment, Cheng Meng-ho took photographs and created a number of sketches and drawings that were later used by the now-defunct Council for Cultural Affairs to reconstruct the prison.
Comments will be moderated. Keep comments relevant to the article. Remarks containing abusive and obscene language, personal attacks of any kind or promotion will be removed and the user banned. Final decision will be at the discretion of the Taipei Times.