Morakot survivors showcase reconstruction successes
More than 100 survivors of Typhoon Morakot — which led to Taiwan's worst flooding in 50 years — displayed their reconstruction achievements at an event in Taipei yesterday, prior to the third anniversary of the disaster.
Children and adults from central and southern Taiwan, hit hard by the storm in August 2009, performed songs and danced at the event, held by the Greater Taichung-based Taiwan Fund for Children and Families, to celebrate the progress of rebuilding work.
Over the past three years, the group has helped residents in Nantou, Chiayi, Taitung and Pintung counties, as well as Greater Kaohsiung, to rebuild homes and schools and breathe new life into local communities.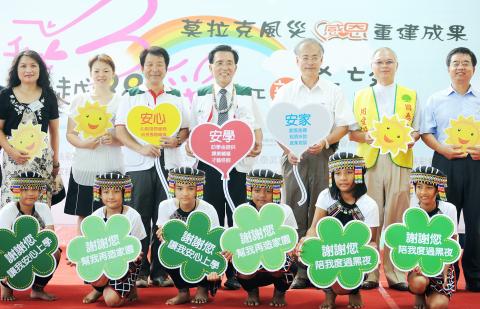 Taiwan Fund for Children and Families executive director Miguel Wang, center back row, and representatives from sponsoring organizations yesterday pose together with Aboriginal Children at an event highlighting the progress of reconstruction in the area three years after Typhoon Morakot caused Taiwan's worst flooding in 50 years.
Photo: Lo Pei-der, Taipei Times
The performances showed "they are back on their feet," said Miguel Wang (王明仁), executive director of the non-governmental fund which has provided financial support and counseling for families affected by the disaster.
At the event, some of the survivors of the disaster shared their stories of the reconstruction process.
"Since the disaster, we have come to realize the importance of developing our village in a sustainable way that allows us to make a living over the long term," said Ismahasan Si-un, a member of the Aboriginal Nangnisalu tribe in Greater Kaohsiung.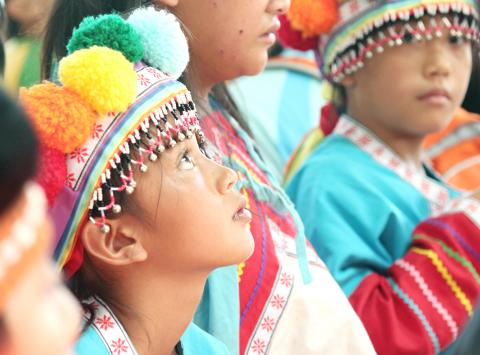 Aboriginal children dress up in traditional clothes for a performance at an even marking the third anniversary of Typhoon Morakot, which caused Taiwan's worst flooding in 50 years in August three years ago.
Photo: CNA
Residents in Nanshalu (南沙魯) now have a facility to exhibit and sell handbags and decorative items made by women who learned handicraft skills after the disaster, Ismahasan said on the sidelines of the event.
Ismahasan, a handicraft artist, said she spent two years rebuilding her house with the help of the fund.
Nearly seven months after the disaster, she summoned the courage to return to her tribe and started teaching women to make aboriginal-style handicraft pieces.
To increase local tourism revenue, she added, residents also opened a restaurant serving aboriginal dishes.
In Pingtung, the fund assisted Jhu-Lin Elementary School, which was flooded and inundated with mud when the typhoon struck.
It also helped bring in teachers to teach students arts and science, school principal Tsou Mei-hua (曹美華) said.
With the extra classes, children can "enjoy learning" while their parents can "focus on supporting their families," she said.
Over the past three years, the fund has set up eight centers in disaster-stricken areas of Pingtung, Taitung, Kaohsiung, Chiayi and Nantou to provide financial assistance, personal support and counseling.
Some of the centers will become permanent facilities to help local residents, Wang said.
Typhoon Morakot brought torrential rain that triggered flooding and massive landslides in central and southern Taiwan, leaving nearly 700 people dead or missing.
Comments will be moderated. Keep comments relevant to the article. Remarks containing abusive and obscene language, personal attacks of any kind or promotion will be removed and the user banned. Final decision will be at the discretion of the Taipei Times.