Food safety group still against ractopamine
The National Food Safety Association yesterday reaffirmed its opposition to relaxing a ban on imports of meat with residue of the leanness-enhancing livestock feed additive ractopamine.
"Toxic beef is unstoppable, the government is unreliable, the people are on their own to say no to toxic beef" the civic groups called out at the legislature, two days before the start of the extra legislative session to vote on an amendment to the Act Governing Food Sanitation (食品衛生管理法).
Taipei City Wenshan Community College president Cheng Hsiu-chuan (鄭秀娟) said the association remains concerned about the negative health effects from eating meat containing ractopamine residue.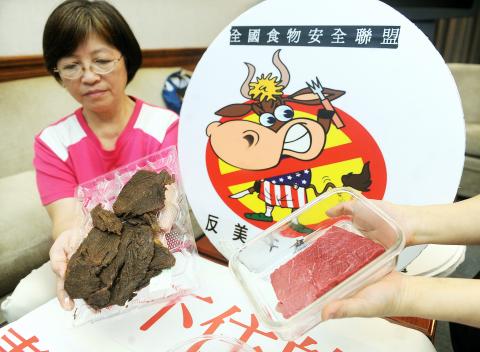 Representatives of a food safety alliance formed by several Taiwanese civic groups stage a protest in Taipei yesterday against the import of US beef containing ractopamine residue.
Photo: Liao Chen-huei, Taipei Times
"We disagree with the government's decision to sacrifice public health, giving in to diplomatic tussles and political negotiations and we don't believe in the 16-character guideline guaranteed by the government, because there have already been many cases of meat found with ractopamine residue even when it was banned by law," she said.
Homemakers' United Foundation secretary-general Lu Mei-luan (呂美鸞) said the adoption of maximum residue levels for ractopamine in beef and pork, made at the Codex Alimentarius Commission's annual session earlier this month, has caused several legislators to give up their previous opposition, but the public's concerns are still unanswered.
"We hope mothers can feel safe about the beef they buy from markets, knowing that it is healthy meat," Lu said, pointing to two pieces of raw beef and a plate of dried beef, explaining that consumers would have no idea how much ractopamine residue is in beef products.
The National Association for the Promotion of Community Universities secretary-general Kao Ju-ping (高茹萍) said that although the commission decided this year to set maximum ractopamine residue levels, many countries which ban the use of ractopamine in meat were standing firm behind their strict regulations.
"If our government's decision to lift the ban is made for economic and international trade considerations, it should at least tell people the truth, instead of having government agencies promise that the meat is safe," Citizen Congress Watch executive director Chang Hung-lin (張宏林) said. "Don't mislead people into thinking that its perfectly safe to eat meat with ractopamine residue."
Hsu Li-min (許立民), a doctor at National Taiwan University Hospital, said the close result of the vote at the Codex Alimentarius Commission's session indicated that the health risks of consuming meat with ractopamine residue are still debated around the world.
"It is a pity that the government cannot give reasonable answers to the reasonable concerns and questions brought up by civic groups," Hsu said, urging people with chronic diseases or children under 36 months, who are more vulnerable to possible health risks, to minimize their beef intake.
Comments will be moderated. Keep comments relevant to the article. Remarks containing abusive and obscene language, personal attacks of any kind or promotion will be removed and the user banned. Final decision will be at the discretion of the Taipei Times.