Wu threatens legal action over allegations
CORRECT THEM: The vice president denies that he or his family had anything to do with corruption and asked a magazine to clarify allegations it had printed
Vice President Wu Den-yih (吳敦義) yesterday threatened to take legal action against the Chinese-language weekly Next Magazine if it failed to clarify its accusations alleging his role in a corruption scandal.
In defending his innocence against the allegations, Wu said he has applied for telephone call records of all his family members to dismiss the allegation that calls were made to Wu Men-chung (吳門忠), a family friend who was allegedly involved in the case.
Wu Den-yih denied that his wife, Tsai Ling-yi (蔡令怡), had made a telephone call to Wu Men-chung last week to confirm his family relations with Cheng Tsai-mei (程彩梅). Cheng is the girlfriend of businessman Chen Chi-hsiang (陳啟祥), who allegedly bribed former Executive Yuan secretary-general Lin Yi-shih (林益世) with NT$63 million (US$2.15 million) to secure contracts with China Steel Corp (中鋼) and its subsidiaries.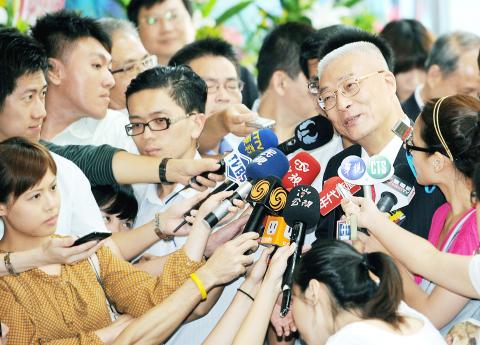 Vice President Wu Den-yih talks to the press in Taipei yesterday on the sidelines of a handover ceremony for the president of the Taiwan Confederation of Trade Unions. Wu threatened to take legal action against a Chinese-language weekly if it failed to clarify its accusations alleging his role in a corruption scandal.
Photo: Fang Pin-chao, Taipei Times
Wu Men-chung, a votes broker for the vice president in his Nantou County hometown, is the father of the daughter-in-law of Chen's girlfriend.
Wu Men-chung admitted on Wednesday that he had accepted NT$10 million from Chen for introducing him to local legislators for help, including Lin.
The vice president yesterday said he and his family had no knowledge about Wu Men-chung's behavior and said he would prove his and his wife's innocence by producing their telephone records.
"Whether Wu Men-chung took money from Chen or not, it's none of my business. I did not make any calls to him recently, and he did not call me or my wife, either," he said.
"I am willing to accept public examination using magnifier, microscope or telescope. However, please do not make up stories with distorting mirrors," he added.
Next Magazine has linked Wu Den-yih to the case by making accusations that Lin bragged about his relations with Wu Den-yih when asking for bribes from Chen, saying he was handling all of Wu Den-yih's matters.
Wu yesterday asked the magazine for a correction and said he could file a lawsuit if it failed to clarify the issue.
Comments will be moderated. Keep comments relevant to the article. Remarks containing abusive and obscene language, personal attacks of any kind or promotion will be removed and the user banned. Final decision will be at the discretion of the Taipei Times.