Drumming, meditation give young inmates a future
ART THERAPY: Young inmates who have been studying drumming and meditation with U-Theatre instructors say they now have self-confidence and believe in themselves
With the help of Zen drumming troupe U-Theatre (優人神鼓), a group of male inmates at Changhua Prison has benefited so much from drumming and meditation that the troupe's founder and artistic director Liu Ruo-yu (劉若瑀) said she hopes a mechanism can be established to facilitate private sponsorship for a permanent institute where the inmates can continue training after they have served their prison sentences.
"These kids have explosive energy inside them. If you give them a framework, a structure, they will channel it into creative outlets. But you will lose them if you let them go back to their old environments after prison," Liu said yesterday at a press event promoting a free performance by the inmate drumming group, the Guwu Percussion Troupe (鼓舞打擊樂團).
For the past three years, more than 40 young men, chosen through auditions, have been studying the art of drumming and Zen meditation with U-Theatre instructors, who visit the prison twice a week.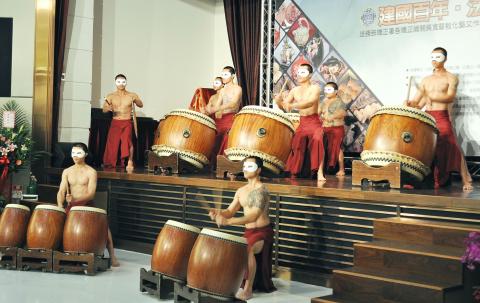 Members of Changhua Prison's Guwu Percussion Troupe perform at a prison in Taoyuan County on May 27 last year. The troupe will give a free performance at the Sun Yat-sen Memorial Hall in Taipei on Aug. 4.
Photo: Li Jung-ping, Taipei Times
The drumming lessons are part of a program initiated by the Chang-hua Prison, a correctional facility for mostly young offenders aged between 18 and 25, to encourage prisoners to study traditional art forms, including Taiwanese glove puppetry and suona (嗩吶), as well as nanguan (南管) and beiguan (北管) music.
In 2009, 12 Guwu performers were given permission to perform at their first show outside the prison, at Changhua County Stadium.
In May this year, members of the group started a five-city tour in Kaohsiung that took them to Tainan, Taichung and New Taipei City. The final show of the tour is scheduled to take place at Sun Yat-sen Memorial Hall in Taipei City on Aug. 4.
All performances are sponsored by private enterprises and institutes, such as Nan Shan Life Insurance Co, the Stans Foundation and Zhen Ru Temple (真如禪寺).
Two former inmates, known as A Gan (阿甘) and Hsiao Chi (小紀), joined the troupe after their release from prison, and said the training and performances have changed the way they feel about themselves.
"I feel moved every time I stand on the stage, knowing that I have completed a performance thoroughly," 26-year-old Hsiao Chi said.
For 24-year-old A Gan, who has now been a member of U-Theatre for more than 18 months, the experience has helped him to regain confidence.
"I didn't have much confidence in myself in the past," he said. "Our first performance was the first time that I felt affirmed. I hope now that I can get better and better."
The group requested that the two men's real names be withheld.
U-Theatre has also learned a lot through the process, Liu said.
"We have watched them changing from being timid and without self-confidence to being able to regain trustful relations with others," she said.
"I realize there is nothing more rewarding in the world than helping a person change for the better," she added.
Free tickets are available for the Sun Yat-sen Memorial Hall performance.
For more information, go to www.utheatre.org.tw or call (02) 2938-8188.
Comments will be moderated. Keep comments relevant to the article. Remarks containing abusive and obscene language, personal attacks of any kind or promotion will be removed and the user banned. Final decision will be at the discretion of the Taipei Times.