Baker feeds the elderly for free
GIVING BACK: When Lin Liang-hung made a success of his business after working hard through difficult times, he answered a call to help needy, solitary elderly people
Having gone from an unseasoned pastry apprentice to owning a chain of bakeries in New Taipei City (新北市), Lin Liang-hung (林亮宏) gives away hundreds of loaves of freshly baked bread each day to elderly people living in solitude, to express his gratitude for the long-time support of local residents.
"The giveaway project started a decade ago when then-Sanchong (三重) mayor Lee Chien-lung (李乾龍) called on all sectors of society to lend a hand to elderly people living in solitude, a proposal I completely agreed with," Lin said.
Born into an underprivileged family with 11 siblings, Lin grew up in straitened circumstances because his father, a miner in Pingsi (平溪), made only a meager salary and was the sole breadwinner of the household.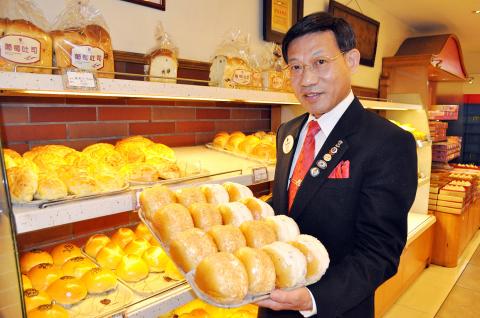 Bakery chain store owner Lin Liang-hung holds a tray of bread at one of his bakeries in New Taipei City on Monday.
Photo: Tsai Pai-ling, Taipei Times
Lin dreamed of becoming a top-notch pastry chef at a young age, after seeing the booming business of a traditional bakery in the region.
After graduating from junior- high school, Lin worked as an apprentice in a Chinese herbal medicine store until the age of 16, when he began to accumulate bakery experience.
Having served an apprenticeship in a biscuit shop for two years, Lin resolved to open a store of his own on Fuhua Street in Sanchong, a location introduced by his relatives in Pingsi.
In spite of his lofty ambitions, Lin's store failed to make a profit at the beginning, he said, adding that he "had to make fried dough sticks at night and work part-time at a factory during the day to eke out a living."
Business at Lin's bakery only started to pick up after he relocated to a more prosperous area on Bihua Street in the same district, while dramatic increases in the prices of raw materials in the 1960s ratcheted up his operating costs and nearly drove his bakery out of business.
Intent on realizing his childhood dream, Lin later took his bakery to the pastry battlefield on Chongxin Road in Sanchong, where competition between established, celebrated bakeries was fierce.
Despite enormous challenges, Lin prospered by launching a series of diverse products — such as Western-style pastries and traditional engagement cakes — to differentiate himself from competitors in the saturated market.
Lin now owns six bakeries in New Taipei City.
"I could not have accomplished what I have accomplished today without people's support, which is why I have spared no effort to repay society when I can," Lin said.
He added that he hoped his charity work would inspire others to perform good deeds.
Comments will be moderated. Keep comments relevant to the article. Remarks containing abusive and obscene language, personal attacks of any kind or promotion will be removed and the user banned. Final decision will be at the discretion of the Taipei Times.