Su takes over DPP, pledges promotion of social justice
Former premier Su Tseng-chang (蘇貞昌), who formally took the helm of the Democratic Progressive Party (DPP) yesterday, said the party would continue to protect Taiwan's sovereignty and promote social justice.
"President Ma Ying-jeou (馬英九) finished his first term by offering apologies and started his second term with large protests. Taiwanese are suffering from the government's failed policies and as the largest opposition party, the DPP has to promote the people's welfare and interests," Su said during the handover ceremony.
The new DPP leader said Taiwan was a "people's Taiwan," not a "politician's Taiwan." The nation's future should not be decided by politicians, but should be decided by all people in Taiwan, he said.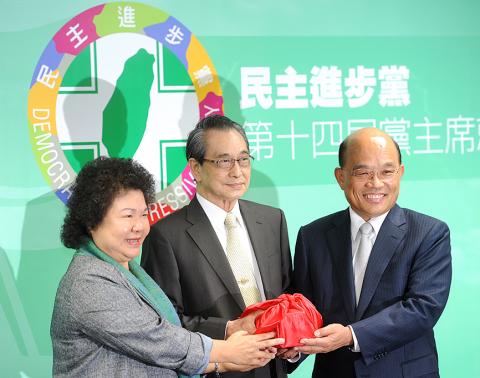 Democratic Progressive Party (DPP) interim chairperson Chen Chu, left, and Chen Chi-sheng, chairman of the DPP's Arbitration Committee, hand over the reins of the DPP to former premier Su Tseng-chang, right, during a ceremony in Taipei yesterday.
Photo: Liu Hsin-de, Taipei Times
Regardless of ethnicity, any person living in Taiwan should not be given up on, he said. The DPP vows to protect everyone's human rights and promote social justice, he said.
The party hopes to create a fair society, a healthy education system, a clean government and a sustainable economic system, Su said, adding that Taiwan should strive for sustainable growth.
Former vice president Annette Lu (呂秀蓮) said at the ceremony that given all the media speculation that he could visit Beijing as DPP chairman, Su should be very cautious in how he handles the matter.
Such a visit, if it were ever to take place, would have to proceed transparently and Su would be responsible for what he says while in the Chinese capital, she said.
Beijing would probably set up Su and distort his words or actions, so he has to be very careful, Lu said.
Su said on Monday that he plans to re-establish the DPP's Department of China Affairs and establish a Chinese affairs committee that would include academics and experts to engage Beijing with a flexible approach.
Su, who won the leadership election on Sunday, took over the chairmanship from interim chairperson Chen Chu (陳菊), the mayor of Greater Kaohsiung.
Former DPP chairperson Tsai Ing-wen (蔡英文), Taiwan Solidarity Union (TSU) Chairman Huang Kun-huei (黃昆輝) and Chinese Nationalist Party (KMT) Secretary-General Lin Join-sane (林中森) also attended the ceremony.
Regarding Ma's reported intention to invite Su for a meeting, Lin said Presidential Office Secretary-General Tseng Yung-chuan (曾永權) would soon visit Su's DPP office to offer the invitation.
Meanwhile, at a separate occasion, Huang said the TSU would initiate a no-confidence motion against the government, adding that Premier Sean Chen's (陳冲) Cabinet is in a mess. Huang cited Minister of Finance Christina Liu's (劉憶如) resignation offer just after the May 20 presidential inauguration ceremony as an example.
He said Sean Chen was unable to handle Liu's resignation offer appropriately and that the Cabinet was in chaos.
Sean Chen should step down and the Cabinet should be reshuffled immediately, Huang said.
Comments will be moderated. Keep comments relevant to the article. Remarks containing abusive and obscene language, personal attacks of any kind or promotion will be removed and the user banned. Final decision will be at the discretion of the Taipei Times.