Changhua farmers protest science park water diversion plan
Brandishing rice stems, guavas, cucumbers and other crops, close to 100 farmers from Changhua County yesterday gathered on Ketagalan Boulevard in Taipei to protest against a water diversion construction project in the fourth-phase expansion of the Central Taiwan Science Park.
"The science park is robbing us of water. Stop the construction at once," the farmers shouted.
"We cannot stand the increase in electricity prices. We are very hungry," they said, adding that as irrigation water is diverted from farmers to supply the science park, farmers would face even more difficult conditions.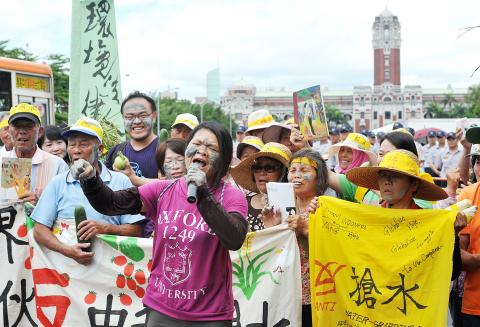 Farmer Tsai Li-yueh, with microphone, and other farmers and supporters protest in front of the Presidential Office in Taipei yesterday against the diversion of irrigation water from farmland to the Central Taiwan Science Park.
Photo: Chien Jung-fong, Taipei Times
"We are not against the science park per se. We are against the water being stolen from us," farmers from the county's Sijhou Township (溪洲) said.
"How are we farmers supposed to survive if the science park steals our irrigation water?" they said.
Some artists and writers also joined the farmers to express their support, including folk singer Chen Ming-chang (陳明章) and writers Chu Tien-hsin (朱天心) and Wu Yin-ning (吳音寧).
"Sorry we are a little late, but I believe you [farmers] will not have to fight alone anymore," Chu said, adding that even the Water Resources Agency knows it is inappropriate to divert agricultural-use water for industrial usage.
It did not make sense for the National Science Council to continue insisting on taking water from farmers, Chu said.
Wu said irrigation water in the nearby towns has been insufficient for more than 10 years, so the decisionmakers in government should stop bullying farmers and undervaluing the importance of water to farming, and refrain from robbing them of water.
A self-help association against the construction project said more than 100 artists and writers had signed a petition in just a few days in support of stopping the water supply diversion at the science park.
The association also urged the government to halt construction at the park and to re-evaluate the country's agricultural policies to protect farmland and water resources.
Comments will be moderated. Keep comments relevant to the article. Remarks containing abusive and obscene language, personal attacks of any kind or promotion will be removed and the user banned. Final decision will be at the discretion of the Taipei Times.