Protesters fight for Linkou park
An alliance composed of community colleges, social organizations and residents of New Taipei City's (新北市) Linkou District (林口) yesterday launched a petition against the city's plan to set up an athletes' village at Linkou Athletic Park, saying it could damage the ecosystem.
The Taipei City Government in December won the right to host the 2017 Summer Universiade. It said it decided to use the Linkou Athletic Park after discussions with the New Taipei City Government.
However, according to Chang Fan (張璠), an official with New Taipei City's Urban and Rural Development Department, the Linkou Athletic Park belongs to the central government and the city government does not have the last say in how it is used.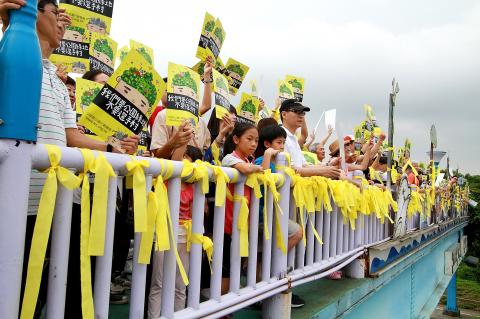 People gather at Linkou Sports Park in New Taipei City yesterday to protest a plan to turn the park into an athletes' village for the 2017 Summer Universiade. The event was organized by a group collecting signatures in support of a referendum to save the park.
Photo: Tsai Pai-ling, Taipei Times
The New Taipei City Government will definitely side with the residents and convey their wishes to the central government, Chang said, adding that the construction plans for the athletes' village have not yet been determined and it would try to create a "win-win" situation for both residents and the central government.
Wang Chen-nai (王貞乃), a member of the alliance named the "Referendum to Save the Park Alliance," said the planned athletes' village is a large-scale development project, but the process for selecting the site or plans for construction have not been made transparent.
It has even misled people into thinking that construction of the athletes' village would pose minimal damage to the surrounding natural environment, Wang said.
Wang said the petition has so far received 4,000 signatures. Once it has gathered 10,000 signatures, the group would forward the petition to the New Taipei City Government and it is hoped to immediately halt the development of the athletes' village.
Translated by Jake Chung, Staff writer
Comments will be moderated. Keep comments relevant to the article. Remarks containing abusive and obscene language, personal attacks of any kind or promotion will be removed and the user banned. Final decision will be at the discretion of the Taipei Times.