Hotel manager loquacious about comics
Though 43-year-old Hsiao Wei-lung (蕭偉隆) is the general manager of the Janfusun Prince Hotel, he does not spend much of his spare time reading the latest financial books, but instead devotes himself to comic books, even going so far as to spend three or four hours in line at comic book exhibitions.
Contrary to the common perception among Taiwanese parents that comic books are a bad influence on children, Hsiao said: "Kids who like to read comics not only won't go bad, it [reading comics] also stimulates their creativity."
"If parents stand by their children and remind them not to over-indulge, their kids won't necessarily lose themselves," he said.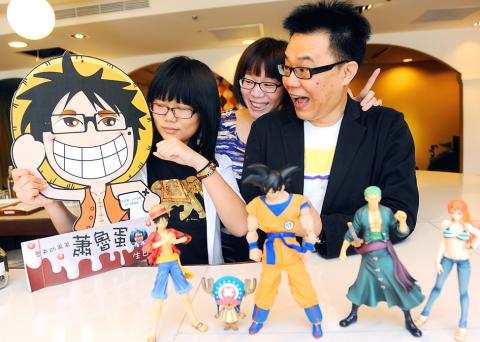 Janfusun Prince Hotel general manager Hsiao Wei-lung, right, his wife and their daughter look at a display of comic characters on April 14.
Photo: Chang Chia-ming, Taipei Times
Hsiao said he loved reading comics when he was a child, adding that because his family ran a small book rental business, he had plenty of comics to read.
"Maybe because both my wife and I love reading comic books, our daughter loves to read them as well," Hsiao said, adding that his family spends tens of thousands of NT dollars on comic books every year, with each member of the family owning his or her own comic book collection.
Hsiao said his favorite comic books were the One Piece (航海王) series by Eiichiro Oda, adding that the series was packed with management philosophy, making it a great read for team managers.
"The captain and main character, Luffy, while at times appearing to be dumb, forges ahead no matter what the obstacles and does not get bogged down in the small details," he said. "More importantly, Luffy knows that although his strength in combat is considerable, he still needs comrades, and doesn't hide his weaknesses, choosing instead to trust in his friends, such as leaving navigation to Nami and cooking to Sanji."
The philosophies and professions in comic books are a reflection of life and working environments, Hsiao said, adding that he would suggest his employees read through the Hotel (大飯店) series by Ishinomori Shotaro for tips on hotel management, learn about red wine and cooking from the Shota no Sushi (將太的壽司) series by Daisuke Terasawa and group management from the One Piece series and the Naruto (火影忍者) series by Masashi Kishimoto.
"We learn from reading through these comics that if we can handle our own jobs properly, there is a great probability we will influence others," Hsiao said, adding that he is planning to build a staff library and fill the shelves with comic books so the staff can learn something of professional value while relaxing.
The Janfusun Prince Hotel has also invested in cosplay culture.
"It started off because Janfusun and the Pili Puppet Show factory were both situated in Yunlin, and it was an obvious choice to pick one of the characters in the puppet shows for a cosplay costume. That led us to turn the hotel into a sort of cultural platform," Hsiao said.
Pili Puppet Show is a TV -series that blends Taiwanese traditional glove puppets with modern technology, such as lighting, sound and computerized special effects, which started in the 1980s.
In the past two years, the Prince Hotel has hosted a -number of cosplay events, in which it encouraged staff to come to work in cosplay costumes and allowed other cosplay enthusiasts to use the presidential suite for a photo shoot.
Translated by Jake Chung, staff writer
Comments will be moderated. Keep comments relevant to the article. Remarks containing abusive and obscene language, personal attacks of any kind or promotion will be removed and the user banned. Final decision will be at the discretion of the Taipei Times.