TFCF urges public to end child abuse
CYCLE OF VIOLENCE: The group said it found about 80% of abusive parents, who were also abused themselves, hit their kids because they didn't know how else to discipline
The Taiwan Fund for Children and Families (TFCF) yesterday urged the public to help break the cycle of domestic violence by being more proactive in reporting cases of child abuse, after a study confirmed that parents who have been victims of domestic violence are more likely to abuse their own children.
"We've looked into 3,577 domestic abuse cases and found that 779 of the abusers were also victims during their own childhood, which means that 21.78 percent — or about one in five — of abuse victims could become abusers later in life," TFCF executive director Miguel Wang (王明仁) told reporters at a press conference in Taipei.
Domestic abuse victims — especially children — might suffer from self-isolation, self-denial and would be fearful of expressing their own feelings, he said.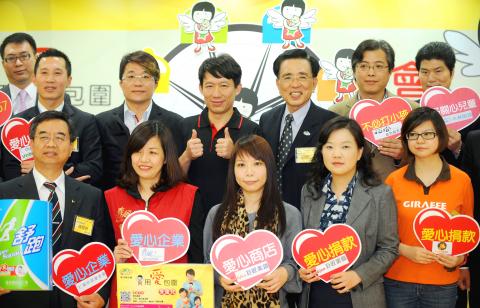 Taiwan Fund for Children and Families executive director Miguel Wang, third right back, entertainer Kuo Tzu-chien, third left back, and other sponsors attend a press conference in Taipei yesterday to call on the public to prevent child abuse.
Photo: Lin Cheng-kung, Taipei Times
"According to research by [the US-based] Bowen Center for the Study of the Family, domestic violence can be passed down for up to eight generations if it is not properly treated," Wang said.
Weng Hui-yuan (翁慧圓), director of the fund's department of social resources, said studies conducted in South Korea showed that parents who have been abused in childhood are five times more likely to become an abuser.
South Korean research also found that 70 percent of abuse victims could grow up to be abusers, Weng said
"There have not yet been large scale studies on the relationship between being abused and abusive acts, but we did find that as many as 77.9 percent of abusive parents, who were also abused as children, said they didn't know how to deal with their children when they got out of hand, so they beat them because they think it is the only way to make a child behave," Weng said.
She urged government agencies and academic institutions to conduct more research throughout the nation on the connection between abuse victims and abusive acts.
Wang also called on the public to help defend children.
"We want our children to live in happiness. We must help them by stopping domestic violence," he said. "If you see children being abused in your neighborhood, you can dial the Ministry of the Interior's anti-domestic violence hotline at 113 or call the TFCF's toll-free number at 0800-078-585. We can all help."
Comments will be moderated. Keep comments relevant to the article. Remarks containing abusive and obscene language, personal attacks of any kind or promotion will be removed and the user banned. Final decision will be at the discretion of the Taipei Times.