New animal welfare body sets out goals
STEPPING IN: The committee, formed by academics and civic groups, says it will focus on changing laws to better protect animals and regularly evaluate relevant agencies
With three students dressed in animal costumes to show that animals are living beings with certain needs, just like humans, an animal protection oversight committee was established yesterday with the aim of monitoring the government's animal welfare policies and administration.
Holding up signs reading: "Animal Protection," "Oversee Administration" and "Care for Life," the students, dressed up as a cat, a deer and a cow, stressed that no matter whether animals are wild or pets, the welfare of all animals should be protected by the government.
The committee, comprised of civic groups and academics, said current animal-related governmental agencies do not have enough personnel or big enough budgets to deal with all animal-related issues, therefore a civic group was needed to participate in and monitor the execution of the formulation of animal protection policies.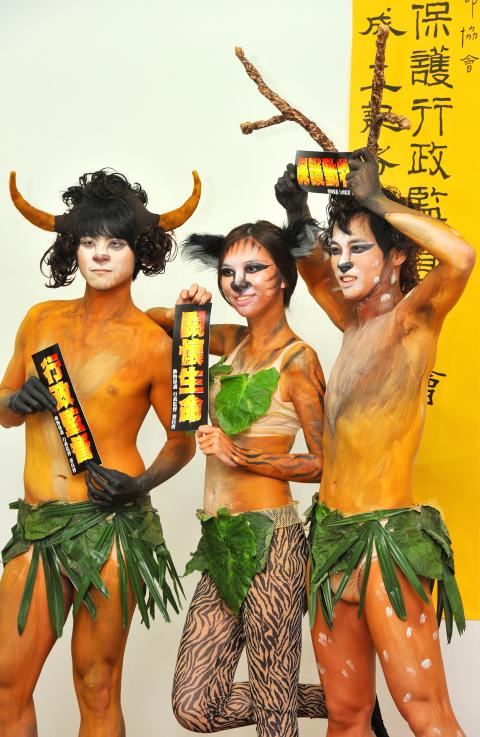 Student volunteers with bodies painted to look like animals hold signs at a press conference in Taipei yesterday to announce the establishment of a committee to monitor animal protection measures taken by government authorities.
Photo: Chien Jung-fong, Taipei Times
Ho Tsung-hsun (何宗勳), the committee's executive director and a member of the Life Conservationists Association, said that the much-debated issues of the recent H5N2 avian-influenza outbreak and the importation of US beef containing ractopamine residues pointed to the government's inefficiencies.
This caused thousands of chickens to be culled as a form of disease prevention, while neglecting the matter of many locally raised pigs and cows being forced to ingest lean-meat enhancing feed additives.
Democratic Progressive Party Legislator Cheng Li-chun (鄭麗君), who attended the event to show her support, said that under the current administrative system, the Council of Agriculture's Animal Husbandry Department is responsible for animal protection, but not enough groundwork has been done to set up a future animal welfare division.
The goals declared by the group yesterday include the modification of animal protection laws based on respect for life, granting future animal protection agencies greater authority, disclosure of animal protection agencies' information, civic participation in related policy making and conducting regular evaluations of related agencies.
"The committee will monitor all the animal-related governmental agencies, from central to local, and keep a record of all the legislators, local councilors and officials involved, while regularly conducting full-scale evaluations," Ho said.
Comments will be moderated. Keep comments relevant to the article. Remarks containing abusive and obscene language, personal attacks of any kind or promotion will be removed and the user banned. Final decision will be at the discretion of the Taipei Times.