FEATURE: Lanyu's residents grudgingly accept nuclear storage
The Tao Aborigines of Lanyu (蘭嶼) — also known as Orchid Island — are once again taking to the streets to voice their opposition to a nuclear storage facility on their island, calling for its immediate removal. While it may appear that the removal of nuclear waste is the only thing the Taos want, the real situation is much more complicated, as Taiwan Power Co (Taipower) is exerting considerable effort on the resource-scarce island to minimize opposition.
"We love Lanyu. We don't want nuclear waste," hundreds of Taos and their supporters shouted out loud as they marched on the streets of Taipei on March 11 — the first anniversary of Japan's earthquake and tsunami, which led to the crisis at the Fukushima Dai-ichi nuclear power plant — during a demonstration against nuclear power.
Before the March 11 demonstrations, hundreds of Taos also organized their own demonstration in front of the nuclear waste storage facility on the island on Feb. 20.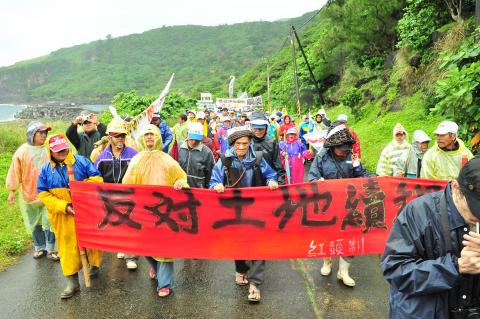 Tao Aborigines hold a protest march in Lanyu Township, Taitung County, on Feb. 20, calling on Taiwan Power Co to present a timetable for removing a nuclear waste plant from the island and to communicate better with Lanyu residents.
Photo: CNA
"The first shipment of nuclear waste came to the island in 1982, the year I was born," Si Ara'n said. "I grew up watching adults on the island fighting against nuclear waste. When I was little, I didn't know what they were doing, but now I understand why the elders fought against it."
"I'm 30, the elders who campaigned against nuclear waste have grown old, so it's time for Taos my age to continue the struggle, because I want my children and grandchildren to grow up in a safe and clean place like all Taos have done for the past 800 or so years," he said.
Lanyu was given its name by the Chinese Nationalist Party (KMT) government after World War II, as officials at the time found orchids blossoming everywhere on the island. The Taos call the island Ponso no Tao, which means Island of the People.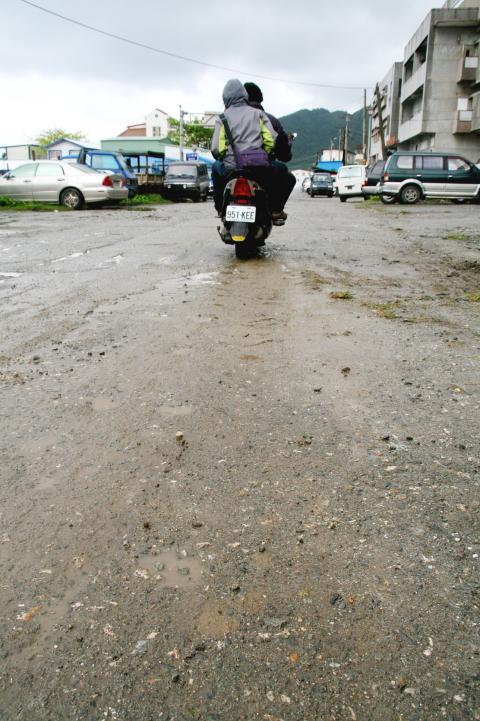 The road in front of the Lanyu Township Office is seen on Feb. 20.
Photo: Loa Iok-sin, Taipei Times
Archeological findings show the Taos have inhabited the island for more than eight centuries and that throughout most of their history, the Taos were self-sufficient, relying on taro and sweet potato grown on the island, fish, as well as trade with what is now the Philippines' Batan Islands.
In the late 1970s, the Taos on Lanyu were informed that the government would build a canned fish product factory on the island to provide jobs, only to find out that the factory was a nuclear waste storage facility, which left behind feelings of deception among most residents there.
Although sentiment against nuclear waste on the island remains strong, the passion among many has gradually faded away over the past three decades, as they begin to accept the existence of nuclear waste on the island and eye the "benefits" that it brings.
"Of course no one likes having nuclear waste on the island, especially when the facility was built through deception," said Sinan Sharang, a clerk working at the local public health center. "But what can you do about it after it's been there for 30 years? They [the protesters] want it removed immediately, but if the nuclear waste storage is gone, the compensation from Taipower would also disappear. How could we live without the money?"
Sinan Sharang said that to compensate the residents for having to live with the nuclear waste dump, Taipower provides welfare benefits for them, such as free electricity and financial assistance to cover transportation costs for patients who need to be transferred to Taiwan proper for treatment of serious medical conditions.
Speaking on the island's lack of resources, Sinan Sharang said at the moment, there are only three doctors — all from Taiwan proper — serving its 5,000 residents and that the public health center is the only medical facility on the island.
"I don't know all the details about how the Taipower compensation money is used, but it's going to be hard for us to lose that money," Sinan Sharang said. "Besides, what can we do with the plot of land that's already been contaminated once the storage facility is moved?"
According to Chih Kuo-tai (池國泰), manager of the Taipower Lanyu Storage Facility, the utility has spent more than NT$1.7 billion (US$57 million) in compensation for Lanyu.
That figure includes an annual NT$20 million payment spread among the six villages on the island — which is managed by a commission at the Lanyu Township Office — between NT$2 million and NT$3 million a year to lease the land on which the storage facility sits; an annual employment service fund of NT$440 million; and a "good neighbor fund" of NT$4 million to NT$5 million a year for emergency assistance and scholarships, Chih said.
"We also spend about NT$90 million to NT$100 million a year to provide free electricity for all [residents]," he added.
Numerous other residents the Taipei Times interviewed on the island also shared Sinan Sharang's sentiment: A concern for the consequences once the storage facility is removed, despite their resentment at having nuclear waste on the island.
"It's not good that nuclear waste is dumped on the island, but where can it be moved to right now? Taipower hasn't found a new location for it yet," said Syaman Miporat, who runs a small family restaurant on the island. "Besides, the compensation money is really helpful for us — I'd join the protest against Taipower, but only to ask it to distribute compensation money in cash regularly."
During the past 30 years, Taipower's compensation payments have only been distributed to Lanyu residents in cash twice: once in 2003, in which each person received NT$36,000; and NT$48,000 per person in 2009.
Si Matospo, a Lanyu resident who has worked at a local community organization, said although the amount of compensation may seem huge, it is not easy for residents to claim.
"For example, though the six villages on the island are entitled to a NT$20 million compensation for community development, those who wish to obtain it must apply for it through community development organizations with carefully written proposals," Si Matospo said. "Unfortunately, not many people are able to write proposals and thus not many people can actually get the money."
Liklun, a 49-year-old woman from Imourud Village — administratively known as Hongtou Village (紅頭) — said it was time for the Taos to wake up.
"Taipower built the storage facility through a lie. We need to think beyond our generation, think of our children and grandchildren," she said.
When asked whether she thinks the NT$1.7 billion compensation from Taipower was helping the island, she responded with a question: "Look at the condition of the roads on this island — do we look like a place with NT$1.7 billion invested in development?"
Sinan Mavivo, an anti-nuclear waste activist, agreed.
"Taipower contaminates our island with nuclear waste and it also contaminates our minds with money," she said. "They are trying to make us think that we cannot live without nuclear waste."
Chih said Taipower hires locals as community service specialists because they need people who know the local tongue to "help pass accurate information to the people."
Community service specialists also help out with community affairs, such as preparing for festivals, he added.
However, a community service specialist, speaking with the Taipei Times on condition of anonymity, described it differently.
"We go around villages, sit and chat with people, and we take down what they say and then we report it to Taipower in a meeting every morning," the specialist said. "As a Taipower employee, I also tell people the storage facility is safe, but I'm also a Tao, so, anyway, this is what my job is about, and I need the job."
Meanwhile, a former Tao employee of Taipower — who also spoke on condition of anonymity — said a lot of Taos depend on Taipower for jobs and are afraid of losing their jobs if they tell people what they really think.
"You may think it's OK to speak to the press anonymously, but it's still dangerous because there aren't many people living on this island. It's not hard to guess who it is," the former employee said.
Comments will be moderated. Keep comments relevant to the article. Remarks containing abusive and obscene language, personal attacks of any kind or promotion will be removed and the user banned. Final decision will be at the discretion of the Taipei Times.