Forest ranger honored for dedication
Forest ranger Lin Chien-chih (林建志) is so committed to protecting the country's forests that he puts his personal safety on the line by lying in wait in the woods to catch illegal loggers.
Through his dedication, the 47-year-old employee of the Forestry Bureau's Taitung Forest District Office uncovered 37 cases of illegal logging last year — more than any other forest ranger in the country — and on Monday he was recognized for his efforts.
The Forestry Bureau recognized him as an outstanding forest ranger and honored his contributions to the preservation of the nation's forests by uncovering hundreds of illegal logging cases over the past few years.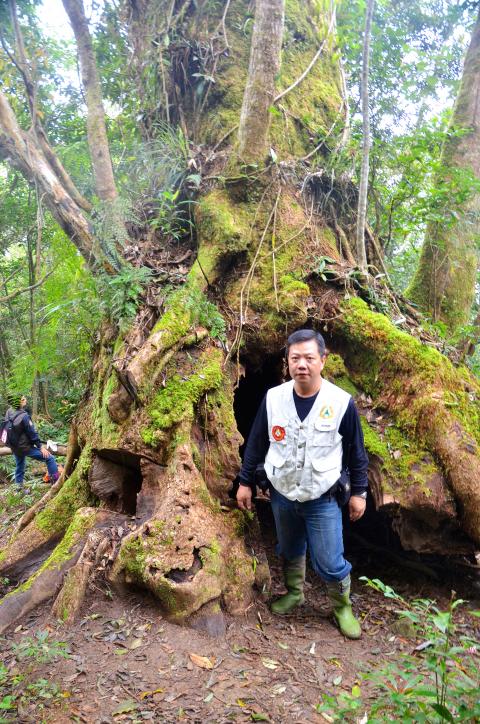 Award-winning forest ranger Lin Chien-chih stands next to the partially sawn-away base of an ancient tree in a forest in Taitung County in this undated photo.
Photo: CNA
To track down illegal loggers, Lin said it was normal for him to lie in wait for two or three days at a time in the forest, sleeping in his car, and living on instant noodles and wild plants.
However, his dedication to the job has made him some enemies.
When working on a case in the Chihpen (知本) area in Taitung last month, Lin said illegal loggers attempted to hit him with their cars.
Fortunately, he managed to dodge the attack and came through unscathed. However, Lin did sustain some minor injuries during a similar incident last year.
He added that so far he has successfully avoided serious injury from one of the frequent traps set up by illegal loggers to catch him.
On his commitment to his job, Lin said he often went into the mountains with his father when he was growing up and has developed "a special attachment to the mountains and trees."
Lin's sister and brother also work in the forest district office, following in their father's footsteps.
"We are a family of foresters," Lin said.
Comments will be moderated. Keep comments relevant to the article. Remarks containing abusive and obscene language, personal attacks of any kind or promotion will be removed and the user banned. Final decision will be at the discretion of the Taipei Times.