Residents of Shida reject vendors' vow
PACK IT UP: A residents' association said vendors in the area are in no position to submit any pledges to the Taipei City Government, as some are operating illegally
Amid an ongoing dispute over the legitimacy of vendors operating in Taipei's Shida Night Market, a local residents' self-help association yesterday dismissed the vendors' latest pledge to maintain a clean environment, insisting that their demand for illegal businesses to leave the neighborhood remained unchanged.
More than 400 vendors in the night market recently signed a joint pledge of self-restraint to reduce air and noise pollution, and presented the pledge to the Taipei City Government yesterday.
In the pledge, vendors promised to move closing hours to 11pm, take responsibility for cleaning up the roads and collecting garbage after closing the stores, keeping the music and their voices down and installing more facilities to prevent air pollution.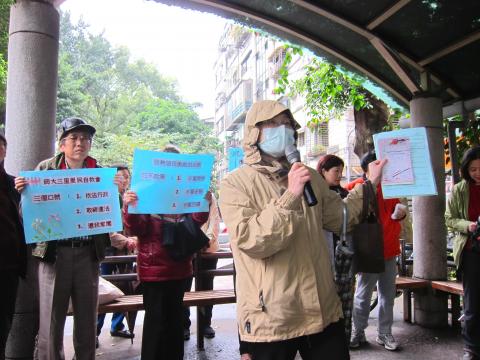 Members of a self-help association for residents in Taipei's Shida area protest yesterday, reiterating their demands that illegal vendors leave the neighborhood and calling on the Taipei City Government to ignore pledges made by vendors about keeping the neighborhood clean.
Photo: Tsai Wei-chi, Taipei Times
However, the vendors' latest efforts to keep their businesses from being shut down amid a recent crackdown on illegal businesses in the night market did not receive a positive response from local residents.
"Those vendors have been ignoring the law by operating illegally in the area and they are in no position to sign any pledges. Our demand that illegal businesses leave the neighborhood will not change," association director Liu Chen-wei (劉振偉) said.
Liu also dismissed the city government's issuing of questionnaires to neighborhood residents to seek their opinion on dealing with the vendors and urged the city not to side with the vendors.
Taipei City Government spokesman Chang Chi-chiang (張其強) said the city's goal of maintaining a safe and quiet environment for residents remained and while the vendors' pledge to maintain a clean and quiet environment was welcomed, it would not affect the city's plan in handling the issue.
"We will continue to demand area vendors follow the regulations, and the city government will hold more public hearings with vendors and residents. Hopefully they can reach a consensus," Chang said.
Disputes over the night market began after Taipei Mayor Hau Lung-bin (郝龍斌) announced in November last year that expansion of the market would not be allowed following a growing number of complaints from residents about the garbage and noise produced by vendors and customers.
In addition to noise and air pollution, some vendors have also violated regulations, as their locations are classified as residential zones. According to the city's land-use bylaws, roads less than 6m wide in residential zones cannot be used for commercial purposes.
Comments will be moderated. Keep comments relevant to the article. Remarks containing abusive and obscene language, personal attacks of any kind or promotion will be removed and the user banned. Final decision will be at the discretion of the Taipei Times.