Former president granted day out of jail for checkup
The Ministry of Justice yesterday announced that former president Chen Shui-bian (陳水扁) would be allowed to leave the Taipei Prison tomorrow for a medical checkup at a hospital in Taoyuan.
The ministry made the decision after 12 legislators from the Democratic Progressive Party (DPP) and one from the Taiwan Solidarity Union (TSU) visited the ministry in the morning to ask that it immediately arrange for Chen to undergo a medical checkup.
Minister of Justice Tseng Yung-fu (曾勇夫) told the legislators that the Taipei Prison and Department of Health's Taoyuan General Hospital would hold a meeting to discuss Chen's medical exam schedule in the afternoon.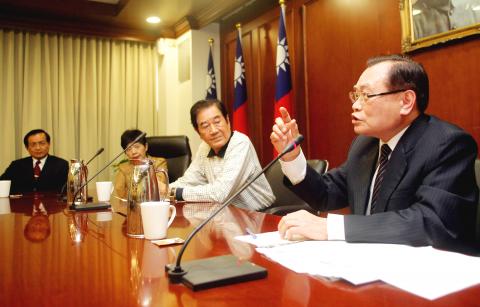 Minister of Justice Tseng Yung-fu, right, speaks to a delegation of 13 Democratic Progressive Party and Taiwan Solidarity Union legislators who visited the ministry in Taipei -yesterday to request prompt medical attention for jailed former president Chen Shui-bian.
Photo: CNA
DPP legislators Mark Chen (陳唐山), Hsu Tain-tsair (許添財), Huang Wei-cher (黃偉哲), Chen Ting-fei (陳亭妃), Tsai Huang-liang (蔡煌瑯), Chen Chi-mai (陳其邁), Gao Jyh-peng (高志鵬) and others, as well as TSU Legislator Lin Shih-chia (林世嘉), visited Tseng at the ministry.
Mark Chen said Chen Shui-bian had received medical treatment at National Taiwan University Hospital during his eight years in the Presidential Office and he urged the Taoyuan hospital to contact the hospital's staff to request his medical records.
Hsu Tain-tsair said Chen was incarcerated under worse conditions than normal prisoners.
"The ministry has delayed Chen's medical checkups because it is watching President Ma Ying-jeou's (馬英九) attitude," he said. "We're hoping the ministry will at least treat Chen like a human being."
Tseng said he suggested that Chen Shui-bian be allowed to request that a doctor he trusts accompany him during the checkup and that three of the former president's family members be permitted to accompany him.
The exam arrangement came after former first lady Wu Shu-jen (吳淑珍) asked the prison to send her husband to a hospital not affiliated with the prison for a checkup.
After visiting Chen on Thursday last week, Wu said her husband looked very tired and had a swollen stomach. She said he should be given a comprehensive checkup in light of a family history of liver cancer.
Chen is serving a 17-and-a-half-year prison term for corruption.
Comments will be moderated. Keep comments relevant to the article. Remarks containing abusive and obscene language, personal attacks of any kind or promotion will be removed and the user banned. Final decision will be at the discretion of the Taipei Times.