Taipei mayor touts Beitou District as tourist destination
Taipei Mayor Hau Lung-bin (郝龍斌) yesterday visited Beitou (北投) Park to promote the district as a popular tourist attraction, soliciting votes for the district in a competition that will select the 10 most popular tourist sites in Taiwan.
Taipei's Beitou and Xinyi (信義) districts were included with 17 towns selected to enter the competition for the "Top Ten Tourist Towns" campaign, which was launched by the Tourism Bureau as part of its effort to boost tourism in Taiwan.
Beitou, known for its hot springs, with a great number of spa facilities and Japanese-style structures, previously topped the list in the online poll, with more than 70,000 votes.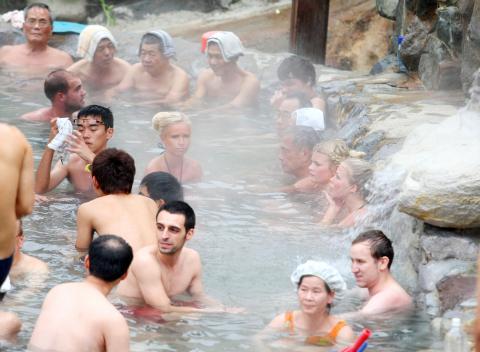 Visitors to Taipei's Beitou District enjoy a soak in one of the area's many hot springs yesterday. The Tourism Bureau has included the area in a competition for the 10 most popular tourist sites in Taiwan.
Photo: CNA
However, about 40,000 votes were ruled invalid by the organizers, who said that they were cast from the same IP addresses.
Hau yesterday said the city government respected the organizers' online poll mechanism, but denied mobilizing staff to vote for the town in the online poll.
"We expect the organizers to keep a fair and just system when calculating the votes in the poll … Beitou is a popular hot spring destination in northern Taiwan, and we call for more support to get the town into the top ten list," he said.
Local city councilors, including the Chinese Nationalist Party's (KMT) Taipei City Councilor Lai Su-ju (賴素如) and Democratic Progressive Party Taipei City Councilor Wu Su-yao (吳思瑤), also visited the district and joined the mayor in extolling the town's attractions.
Wu accused the Tourism Bureau of failing to present any evidence that proved the city had been cheating in the poll and said Hau should lodge a formal protest against the bureau, adding that it had distorted Taipei's efforts to support Beitou as a top tourist attraction.
The competition includes an assessment from a panel of judges and a public poll, which account for 80 percent and 20 percent of the final scores, respectively.
Public voting begins today and ends on March 9.
For voting and more information, visit the contest Web site at http://taipeitravel.net.
Comments will be moderated. Keep comments relevant to the article. Remarks containing abusive and obscene language, personal attacks of any kind or promotion will be removed and the user banned. Final decision will be at the discretion of the Taipei Times.