FEATURE: Military fighting battle of the bulge
OBESITY: As the nation's economy grew, people's lifestyle also changed, with children growing up on fatty foods and spending hours playing video games
On a military base in Taoyuan County, hundreds of young men are battling one of the main obstacles to a robust and efficient defense force — obesity.
They get up at dawn to jog, do calisthenics and throw mock hand grenades, all in a bid to achieve a level of fitness that can no longer be taken for granted in an increasingly sedentary society.
"The objective is to provide them with the basic training that will allow them to take up more special training after 37 days," said Colonel Shi Wen-lung at the camp.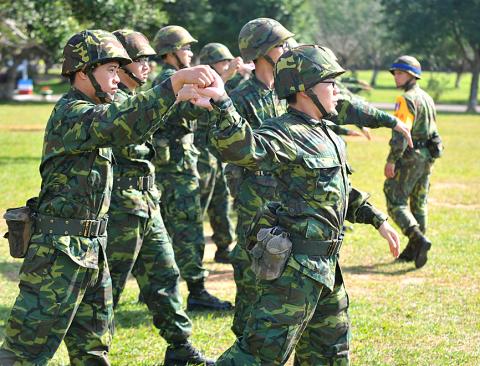 Recruits practice throwing mock hand grenades at a military base in northern Taiwan on Nov. 25.
Photo: Patrick Lin, AFP
Across a narrow body of water, Taiwan faces a formidable foe — the People's Liberation Army (PLA) — but at home it must tackle the collateral damage of the modern age: growing waistlines and deteriorating eyesight.
The nation's GDP per capita grew from about US$200 in 1951 to roughly US$31,000 in 2009, according to data compiled by the University of Pennsylvania.
The lifestyle of its people has followed in step and childhoods full of fatty foods and endless hours in front of the computer have made the nation's adolescents less fit for army life than perhaps any generation before.
"In boot camp, many have a hard time getting up to speed," said Stephen Sung, a 20-year-old conscript. "I guess they're too spoiled at home."
The issue is one of global significance, as most rich societies worldwide grapple with the challenge of maintaining a credible military with a young generation shielded from physical hardship since birth.
"Like their peers elsewhere in the world, Taiwan's young people are on the decline in terms of physical fitness compared with their fathers," Chinese Nationalist Party (KMT) Legislator Lin Yu-fang (林郁方) said.
The average body mass index (BMI), a widely accepted measure for whether a person is overweight, of young Taiwanese has been rising steadily in recent years.
Twenty years ago, the average BMI of the nation's 18-year-olds was 21.95; 10 years ago it had risen to 22.15; and now it is estimated to be around 23, according to the Ministry of National Defense.
A value of 25 is considered overweight.
Lin attributes changing body shapes partly to social and economic advances in Taiwan's fast-developing economy.
"Among the causes is a lack of proper exercise as more and more people live in urban areas," he said.
"Maybe not everyone, but indeed lots of young people like to sit and play video games day and night. Fast food is another problem." he said.
It's not just excess weight that's causing despair among military recruiters, it is also the eyes of their would-be soldiers.
Myopia or near-sightedness has increased from 46.9 percent of Taiwanese sixth-graders in 1996 to 65 percent last year, Ministry of Education figures show. Scientists have blamed the trend on children spending more time indoors.
Maintaining a strong defensive force has been a policy priority for decades as China has never ruled out an attack.
The Taiwanese military is currently about 275,000-strong, mostly conscripts, but the plan is to eventually make it a full professional force.
Observers have expressed concern that a professional military could worsen the recruitment problem, as the most talented young Taiwanese have traditionally shied away from careers in the armed forces.
While Taiwan's situation may be special, its problems are universal.
Throughout history, the armies of the world have had to deal with malnourished or undernourished recruits, but in recent decades, the opposite has been the case.
According to the US military, only one in four young Americans is fit to join up, with obesity cited as a main cause of ineligibility.
"When both our children's health and our national security are at stake, it is time for decisive action," a group of retired senior US military officials wrote in a report, Unfit to Fight, in November last year.
However, it's not all bad news, and some observers point out that whether Taiwan's young are also unfit to fight to a large extent depends on what kind of battle they are preparing for.
A D-Day style invasion by China is just one scenario for how a conflict with China could play out, along with other contingencies such as a blockade or a missile attack.
It may be that Taiwan's young are no match for the lean and mean infantrymen of China's PLA, but in a 21st century conflict it may matter less, according to Liu Fu-kuo (劉復國), a defense expert at National Chengchi University in Taipei.
"We are now moving towards a technological military which relies on knowledge and skills to operate sophisticated weaponry systems," he said.
"We need a slimmer, smaller but more technology-dependent military," he said. "We need more technicians and more skillful people to join the military."
Comments will be moderated. Keep comments relevant to the article. Remarks containing abusive and obscene language, personal attacks of any kind or promotion will be removed and the user banned. Final decision will be at the discretion of the Taipei Times.