2012 ELECTIONS: Ma joins holiday cheer to politics
TWO BIRDS, ONE STONE: Ma reminded voters that today is also ROC Constitution Day, and promised that he would continue Taiwan's democratic development
President Ma Ying-jeou (馬英九) yesterday traveled around the nation to celebrate Christmas Eve with the public at various events, adding holiday atmosphere to his re-election campaign.
Wearing a white hooded sweatshirt and a pair of jeans, Ma spent the afternoon with a group of young supporters at his campaign headquarters in Taipei City, giving out red talismans, one of his campaign souvenirs, and singing Christmas carols with children who suffer from rare diseases.
Amid cheers from his young supporters, Ma took the occasion to promote the establishment of the nation's Constitution, as today is also Constitution Day in Taiwan, and promised to continue the democratic development of Taiwan, turning the nation into what former US president George W. Bush called a "beacon of democracy in Asia and the world."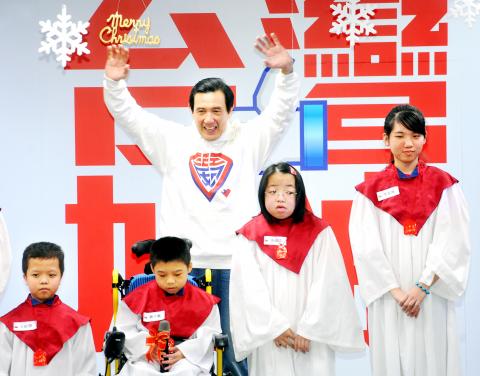 President Ma Ying-jeou sings carols with choristers during a party at his election campaign headquarters in Taipei City yesterday.
Photo: Fang Pin-chao, Taipei Times
"Taiwan's full-fledged democracy is a model for many of our Asian neighbors. Recent presidential debates and policy platform presentations, for example, were broadcast in many countries even though many people don't recognize the candidates. Why? Because they don't have [democratic debates] in their countries," he said.
He then played trivia games with the supporters, asking them questions ranging from the year the Constitution was established to the day of the presidential election, before joining children with rare illnesses to sing Christmas carols.
Ma later attended a Christmas party organized by the Presbyterian Church in New Taipei City (新北市). Accompanied by New Taipei City Mayor Eric Chu (朱立倫) and Taipei Mayor Hau Lung-bin (郝龍斌), Ma gave his blessings to the nation and handed out gifts to the crowd at New Taipei City Hall.
He then headed to Greater Kaohsiung to attend a Midnight Mass service to be conducted by Cardinal Paul Shan Kuo-hsi (單國璽).
Ma will focus his election campaign in northern Taiwan today, canvassing the streets in Taoyuan and visiting local temples in the afternoon, and campaigning for Chinese Nationalist Party (KMT) legislative candidates in Hsinchu in the evening.
Ma's re-election campaign office said he would make home-stay trips again from Tuesday to Thursday, spending nights at residents' homes in Taoyuan, Hsinchu and Miaoli to consolidate support in traditional pan-blue strongholds.
Comments will be moderated. Keep comments relevant to the article. Remarks containing abusive and obscene language, personal attacks of any kind or promotion will be removed and the user banned. Final decision will be at the discretion of the Taipei Times.