2012 ELECTIONS: President Ma finds a protest around every corner
President Ma Ying-jeou (馬英九) was confronted by a surprise protest yesterday by supporters of the former Losheng (Happy Life) Sanatorium, who say the government has continued to ignore geological instability issues at an MRT station and maintenance depot in Sinjhuang District (新莊), New Taipei City (新北市), on the site that formerly housed the sanatorium.
"Landslides are happening at Losheng, protect the potential World Heritage site," Losheng conservationists shouted through loudspeakers while hanging giant banners with the slogan from the third-floor windows of a building at Shih Hsin University.
Ma, along with the two other presidential candidates — Democratic Progressive Party (DPP) Chairperson Tsai Ing-wen (蔡英文) and People First Party Chairman James Soong (宋楚瑜) — were invited to talk about their cultural policies to musicians, filmmakers and artists at the university.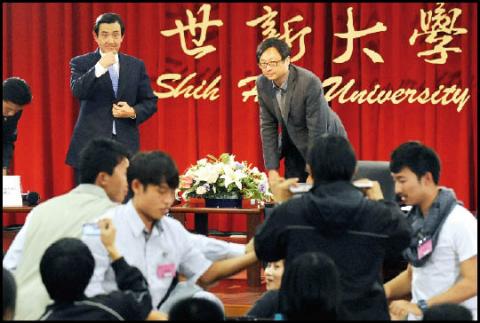 Members of the Losheng Youth Alliance stage a protest during a question-and-answer session at Shih Hsin University attended by President Ma Ying-jeou, back left. The alliance wanted assurances the government would keep the Losheng Sanatorium open.
Photo : SEAN CHAO, TAIPEI TIMES
Ma did not react to the surprise protest and he walked straight into the building, where he then encountered a second surprise protest.
Right after answering a question about the controversies surrounding the conservation of Losheng Sanatorium raised by National Chengchi University's Department of Radio and Television associate professor Kuo Li-shin (郭力昕), a member of the Youth Alliance for Losheng, Ho Hsin-chieh (何欣潔) stood up in the audience, held up a newspaper ad and explained in detail the landslide crisis affecting the remaining part of the sanatorium and a new MRT building on the site.
"Landslides are happening at Losheng, please call a cross-Cabinet meeting to resolve the issue," Ho urged the president repeatedly.
"Give me all the information you have, I'll take a look," Ma said in response.
"Will you ask the Executive Yuan to call a cross-Cabinet meeting on it?" Ho asked.
"I'll take a look and decide if the Executive Yuan should hold a meeting, if it's necessary," Ma said.
Following the conversation, Ho was removed by security officials.
Liao Chia-hung (廖家弘), another Losheng conservationist, told reporters outside the venue that they protested in front of the president because otherwise the government ignores them.
"We want to make sure that president hears what we have to say," Liao said.
Comments will be moderated. Keep comments relevant to the article. Remarks containing abusive and obscene language, personal attacks of any kind or promotion will be removed and the user banned. Final decision will be at the discretion of the Taipei Times.