2012 ELECTIONS: First lady 'campaigns' for Ma Ying-jeou in Chiayi
First lady Chow Mei-ching (周美青) on Monday traveled to Chiayi County soliciting support for President Ma Ying-jeou (馬英九) while attending charity activities.
Chow, known for keeping a low profile, is seen as a trump card by the Chinese Nationalist Party (KMT) given her popularity among pan-blue voters, and KMT legislators and supporters have been calling for her participation in the campaign to boost Ma's momentum.
She visited fruit and vegetable markets and night markets and talked to vendors about fruit prices in the wake of recent disputes over the issue between the KMT and the Democratic Progressive Party (DPP).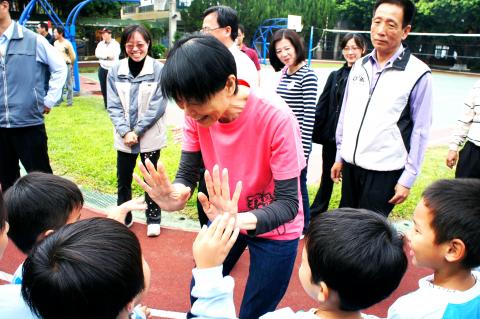 First lady Chow Mei-ching plays with children yesterday at Anhe Primary School in Chiayi County's Singang Township, where she gave a talk about the works of Jin Dynasty (265-420) calligrapher Wang Xizhi.
Photo: Lin I-chang, Taipei Times
Chow continued her trip yesterday, visiting three elementary schools to meet students as part of her charity work. KMT spokesperson Lai Su-ju (賴素如) said Chow's trip to Chiayi was a private matter and that she would formally start campaigning for Ma about two weeks before the presidential vote.
"The first lady is very charismatic and is always great with the public. She will definitely help boost the president's support in the election, but we respect her decision on when to join the campaign," Lai said.
Asked about Chow's appearances at his previous campaign events, Ma said Chow usually joined the campaign about 10 days before an election.
With the presidential and legislative elections approaching, the KMT and Ma's re-election campaign office will hold a large-scale event on Saturday at Taipei City's Baoan Temple, the same day as the DPP's large-scale rally on Ketagalan Boulevard in front of the Presidential Office.
Ma's campaign office spokesman Yin Wei (殷瑋) said the office would collect 5,000 talismans and use them to form the Chinese character for an (安, safe) in front of the temple as a blessing for Taiwanese.
The temple, located in Datong District (大同), is a popular campaign site for both pan-blue and pan-green politicians.
Yin said Ma would pray for peace and prosperity for the nation during the event and would pledge to bring safety and prosperity to the lives of Taiwanese if re-elected.
Comments will be moderated. Keep comments relevant to the article. Remarks containing abusive and obscene language, personal attacks of any kind or promotion will be removed and the user banned. Final decision will be at the discretion of the Taipei Times.