Farmers' pension increase approved
The Legislative Yuan yesterday passed an amendment to the farmers' pension statute that would raise monthly payments for elderly farmers from the current NT$6,000 to NT$7,000 starting next year.
The pension will also be adjusted every four years based on changes in the consumer price index, according to the amendment.
The amendment includes a clause disqualifying wealthy farmers from the pension program starting on Jan. 1, 2013.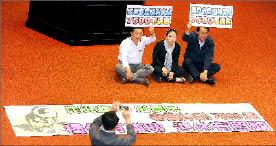 Chinese Nationalist Party (KMT) legislators Wong Chung-chun, left, Chang Chia-chun, center, and Chung Shao-ho sit on the floor in the legislature holding signs protesting a proposed amendment to the farmers' pension statute for an exclusion clause barring wealthy farmers from the program.
Photo: Liu Hsin-de, Taipei Times
The clause targets those whose income from non-agricultural sources exceeds NT$500,000 (US$16,578) per year or who own non-farm property worth more than NT$5 million.
This excludes residential property worth less than NT$4 million in which farmers are living. Farmers who are already covered by the program before that date will not be affected.
As private residences are not counted in the property valuation, the clause would affect only several hundred people, the Chinese Nationalist Party (KMT) caucus said.
The amendment was voted through the legislature with backing from the KMT majority.
Although the Democratic Progressive Party was in favor of -increasing the farmers' pension, it also said that no farmers should be excluded from the program based on their wealth or lack thereof.
Several KMT legislators from agricultural regions — such as Wong Chung-chun (翁重鈞) from Chiayi County, Chung Shao-ho (鍾紹和) from Greater Kaohsiung and Chang Chia-chun (張嘉郡) from Yunlin County — also opposed the exclusion clause.
In the voting process, the legislators held up a banner that read, "Against depriving people of their rights" to voice their protest.
KMT Legislator Lin Yi-shih (林益世), head of the KMT's policy committee, said the clause was introduced in line with the principles of fairness and justice, adding that a similar exclusion clauses applies to welfare programs for the disadvantaged.
Comments will be moderated. Keep comments relevant to the article. Remarks containing abusive and obscene language, personal attacks of any kind or promotion will be removed and the user banned. Final decision will be at the discretion of the Taipei Times.