2012 ELECTIONS: Ma blasts DPP 'smear tactics'
President Ma Ying-jeou (馬英九) yesterday slammed the Democratic Progressive Party (DPP) for "spreading rumors against him," urging party members to be cautious about smear campaigns, while pledging to run a positive election campaign.
Ma, who is seeking re-election in January, made the comments during a Chinese Nationalist Party (KMT) Central Standing Committee meeting in Greater Tainan yesterday.
Presiding over the committee, Ma, who doubles as KMT chairman, warned local members about negative campaigning in the face of a neck-to-neck battle ahead of the elections and denied having met a local bookmaker in Chiayi in September.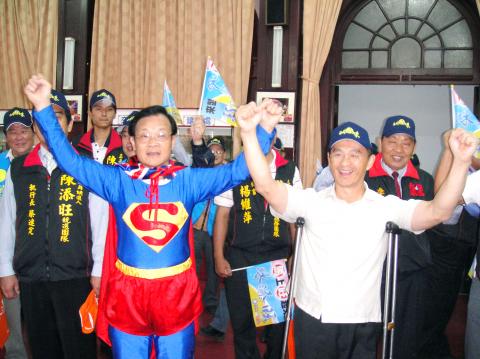 Chen Tien-wang, left, wears a superman costume as he registers to run for Chinese Nationalist Party (KMT) legislator for the first district of Greater Taichung yesterday. Chen was accompanied by the city's deputy mayor, Shyu Jong-shyoung, right.
Photo: CNA
"We are facing a tough battle in both the presidential and legislative elections, and our opponents will launch more smear campaigns against us. We should take more cautious measures and prevent such negative campaigning from affecting the party's performance in the elections," he said.
Ma on Monday filed a defamation suit against the DPP for spreading what he described as an unfounded report claiming that he met with underground bookmaker Chen Ying-chu (陳盈助) on Sept. 10 to raise campaign funds totaling NT$300 million (US$9.9 million).
The allegations were first made in a story in Chinese-language Next Magazine last week. While the Presidential Office, Ma's re-election campaign office and the KMT have denied the allegations, the DPP used the report to criticize Ma.
In related news, the KMT yesterday completed the registration process for its legislator-at-large candidates with the Central Election Commission.
Legislative Speaker Wang Jin-pyng (王金平), who tops the KMT's 34-nominee list, and KMT -Secretary-General Liao Liao-yi (廖了以) led the party's candidates in registering with the CEC.
Wang said the KMT's nomination list received a positive public response for its inclusion of representatives from disadvantaged groups and experts in various fields, and that the party was seeking to win 20 legislator-at-large seats.
"Of course we hope the safe list could be longer and that the candidates will be fully cooperative with the party's election campaign strategies," he said.
Child Welfare League Foundation executive director Alicia Wang (王育敏) and Taiwan Organization for Disadvantaged Patients secretary-general Yang Yu-hsing (楊玉欣) also attended the registration and said, should they be elected they would dedicate their efforts to protect the rights of disadvantaged groups in the legislature.
Comments will be moderated. Keep comments relevant to the article. Remarks containing abusive and obscene language, personal attacks of any kind or promotion will be removed and the user banned. Final decision will be at the discretion of the Taipei Times.