Union questions CLA leave figures
NUMBERS GAME: A trade union has said that 33,000 workers have been put on unpaid leave, much higher than the official figure of 2,801 employees
A greater number of companies are imposing furloughs on their workers than the government's official figure, a high-tech workers' union said yesterday as it petitioned labor officials to address the issue.
Urging workers to join unions, the Trade Union of Electrical, Electronic and Information Workers in Taiwan sent a list of 63 companies it said have imposed unpaid leave on their workers to Huang Wei-chen (黃維琛), section chief of the Council of Labor Affairs' (CLA) department of working conditions.
Union secretary-general Lin Ming-che (林名哲) said that according to its most recent data, a total of 33,000 employees from 63 enterprises have been put on unpaid leave.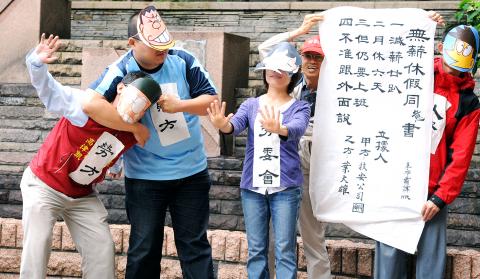 Members of an electrical, electronic and information workers' union stage a protest in front of the Council of Labor Affairs in Taipei yesterday, calling for measures to deal with the problem of unpaid leave.
Photo: Lo Pei-der, Taipei Times
The number is in contrast to the council's official figure of 2,801 people from 12 enterprises, Lin said.
Lin said the gap is more a result of employers trying to cover up the real number than workers providing false accounts, adding that it is the government's responsibility to check and confirm the figures.
The union called on employees to form or join trade unions to gain more of an equal footing in negotiations with management. It also urged the council to set up and promote a special hotline for workers to report any irregularities regarding their employers.
In response, Huang said the council would ask local labor authorities to check the enterprises on the list to confirm if leave measures have been implemented and it would publish the finalized results on Nov. 16.
If the enterprises are confirmed to have illegally placed workers on furlough, they would face a maximum fine of NT$300,000 (US$9,960), while serious offenders would be named and shamed, Huang said.
Under current regulations, companies can only implement unpaid leave in the case of financial losses, if they have gained the consent of workers following negotiations between employees and employers, and if workers' monthly incomes are still no less than the national minimum wage of NT$17,880.
As to the gap between the union's figures and the official numbers, Huang attributed the difference to the time the government needs to confirm the accuracy of the information.
He said the council would continue to monitor the situation and would ask local authorities to promptly investigate reports of workers being placed on unpaid leave from the media, trade unions and the employee complaint hotline.
Comments will be moderated. Keep comments relevant to the article. Remarks containing abusive and obscene language, personal attacks of any kind or promotion will be removed and the user banned. Final decision will be at the discretion of the Taipei Times.