Group urges halt to CTSP project
WASTE: Activists criticized plans to expand the Central Taiwan Science Park, saying that there were still 1,466.46 hectares of idle land in all of central Taiwan's science parks
The Youth Alliance Against Central Taiwan Science Park and the Taiwan Rural Front yesterday called on the government to suspend construction of the Central Taiwan Science Park's (CTSP) fourth-phase campus in Erlin Township (二林), Changhua County, as many of the country's science parks still have a high percentage of idle space amid an apparent downturn in the high-tech industry.
"I don't see the need to build more useless, idle science parks that do no good but waste taxpayers' money and cause damage to the ecology and traditional local industries such as agriculture," a member of the alliance, Chen Tzu-hui (陳慈慧), told a news conference held at the Legislative Yuan.
Citing government statistics, Chen said that in central Taiwan alone there are 1,466.46 hectares of idle land in the region's science parks, including 83.97 percent idle space in Tongluo Science Park in Miaoli County, 40 percent in the CTSP's first-phase campus in Greater Taichung and 47.43 percent at its second-phase campus in Yunlin County.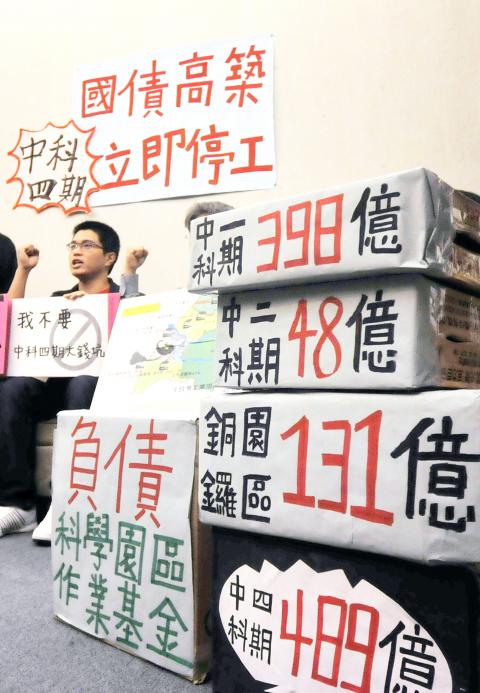 Members of a civic youth group protest at the legislature in Taipei yesterday, calling on the government to scrap plans to expand the Central Taiwan Science Park.
Photo: CNA
"On the construction of these science parks, the government has wasted hundreds of billions in taxpayers' money; it must be stopped now," she said.
Another member of the alliance, Lin Le-xin (林樂昕), said the Erlin campus project began when AU Optronics (AUO) asked for the government's help to build a new plant, but "now that recession has hit the LCD industry, AUO announced [in September] that it would suspend all its expansion plans. Do we still need the Erlin campus?"
According to official estimates, NT$39.5 billion (US$1.2 billion) more is still needed to complete the Erlin project.
Citing information from the CTSP's Web site, Lin said only two companies — one that manufactures medical accessories and another that produces mechanical parts — have expressed interest in building new factories in the 631 hectare Erlin campus.
"Doesn't this phenomenon show that we already have more science parks than the demand for them?" he asked.
"In 2005, all science parks were NT$67.2 billion in debt, by the end of last year, they were NT$120 billion in debt," Taiwan Rural Front spokeswoman Tsai Pei-hui (蔡培慧) said, quoting statistics from the National Audit Office.
"We should not create any more bottomless pits that swallow up taxpayers' money," Tsai added.
Yao Liang-yi (姚量議), a Taiwan Rural Front member who just graduated from National Kaohsiung Normal University's Graduate Institute of Geography, said he grew up in a farming village and plans to go back home to make a living off agriculture after he completes his military service.
"No more farmland should be sacrificed for science parks and we don't want to shoulder more government debt," Yao said.
The Erlin project has also drawn opposition from farmers and environmentalists over water allocation and land expropriation issues.
Comments will be moderated. Keep comments relevant to the article. Remarks containing abusive and obscene language, personal attacks of any kind or promotion will be removed and the user banned. Final decision will be at the discretion of the Taipei Times.