Campaigners push for Yushan in '7 Wonders' contest
Local non-governmental organizations (NGO) were lobbying yesterday for the public to vote for Yushan (玉山) to become one of the world's "New 7 Wonders of Nature."
The organizations urged the public to cast their vote, asking people to treat the finals of the competition even more seriously than the upcoming presidential election.
Yushan, also known as Jade Mountain, is among the 28 finalists of a four-stage contest that began three years ago.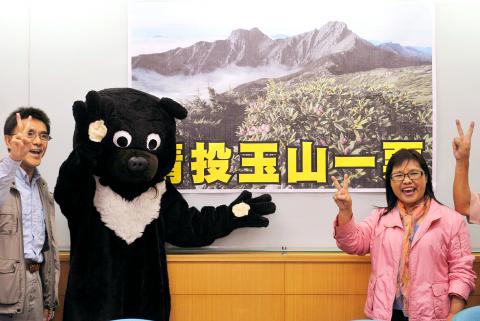 Members of various environmental groups pose in front of a poster promoting Yushan's entry into a poll for the "New Seven Wonders of Nature" during a press conference held at the National Taiwan University Alumni Club Building in Taipei yesterday.
Photo: CNA
The Taiwanese landmark, which is the highest peak in East Asia, has been gaining votes slowly, according to Wang Chun-hsiu (王俊秀), who organized the Vote-for-Yushan campaign.
Wang said that the last thing Taiwanese would want to see is Yushan losing the contest to South Korea's Jeju Island — the only other natural landmark in northeast Asia that has made it as far as the finals.
"Yushan is and will be the president of the Republic of China -forever," Wang said.
"Winning or losing in this race matters much more than the upcoming presidential election," he said.
Wang, in collaboration with the Central Taiwan Sustainable Development Alliance, urged Taiwanese both at home and abroad, and all Chinese people, to go online and cast their vote for the breathtaking landmark.
"It's time to put politics aside," alliance chairman Chen Ping-huang (陳炳煌) said.
"With two weeks left to the deadline, Yushan is going to top the new seven wonders," Chen said.
The public can follow simple step-by-step instructions on how to cast their votes, as explained in leaflets issued by local NGOs and on an official campaign Web site at www.ysnp.gov.tw/en/, which was launched by Yushan National Park Headquarters, Chen and Wang said.
"We don't want to let the inhabitants of Yushan down — the Formosan black bears and Mikado pheasants — do we?" Chen said.
Votes for Yushan can be logged on www.new7wonders.com/vote-2?lang=en.
Cellphone users can call 55123, or text the word "yushan" to the same number.
Voting by phone can also be carried out by calling 5512 and following the voice instructions.
The cost of texting or dialing is less than NT$10, the NGOs said.
The seven wonders poll identifies Yushan as being located in Chinese Taipei.
Comments will be moderated. Keep comments relevant to the article. Remarks containing abusive and obscene language, personal attacks of any kind or promotion will be removed and the user banned. Final decision will be at the discretion of the Taipei Times.