2012 ELECTIONS: Ma headquarters to open Sunday
President Ma Ying-jeou (馬英九) will launch his national re-election campaign headquarters on Sunday morning in Taipei. The office is in the Bade Building, next door to the Chinese Nationalist Party's (KMT) headquarters.
Ma's campaign office yesterday invited the public to attend the opening and encouraged people to wear or carry national flags to create a "festive atmosphere."
It also invited 12 supporters and a golden retriever to showcase T-shirts, stickers and other campaign products featuring the national flag, hoping to turn the launch into a party with a national flag theme.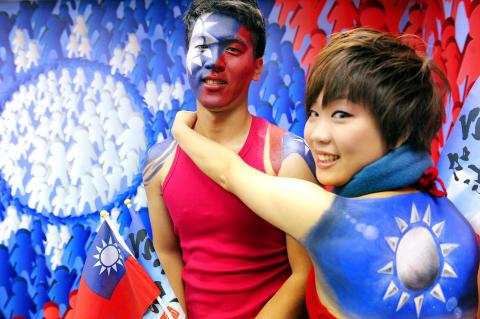 A couple adorned with Republic of China flag motifs smile during a press conference at the re-election campaign headquarters of President Ma Ying-jeou and his running mate, Premier Wu Den-yih. The headquarters officially open on Sunday.
Photo: George Tsorng, Taipei Times
Campaign office honorary director Chan Chun-po (詹春柏) said the "national flag" party would showcase the KMT's passion for the nation.
"The national flag party will demonstrate our love of Taiwan and the Republic of China [ROC], and we invite the public to wear costumes or carry national flags to celebrate with us," he said.
The KMT has covered its party headquarters with a large banner featuring the national flag pattern. Campaign office spokesperson Lee Chia-fei (李佳霏) said the campaign headquarters would be covered with a similar banner featuring national flags and images of Ma and his running mate, Premier Wu Den-yih (吳敦義), after Nov. 15, because election laws bar earlier displays.
The national flag has been a major campaign tool for Ma. His campaign office has launched a series of TV advertisements featuring the national flag, praising patriotism and defending the government's efforts to promote national dignity.
The office will open a souvenir shop at the campaign headquarters today, Lee said.
Comments will be moderated. Keep comments relevant to the article. Remarks containing abusive and obscene language, personal attacks of any kind or promotion will be removed and the user banned. Final decision will be at the discretion of the Taipei Times.