LGBT pride parade held on NTU campus
Ahead of the annual Taiwan Lesbian, Gay, Bisexual and Transgender (LGBT) Pride Parade in Taipei on Saturday, dozens of National Taiwan University (NTU) students from various student organizations yesterday held their own version of the LGBT parade on campus, to raise awareness among students on gay rights issues.
Chanting slogans and beating on drums, the "Small LGBT Pride Parade," as the organizers called their event, drew the attention of their fellow students as they marched through the campus, with some students giving them the thumbs-up or joining them along the way.
The event was organized by several student groups, including the NTU Students Association, the NTU Women's Studies Society and the NTU Gay Students' Association.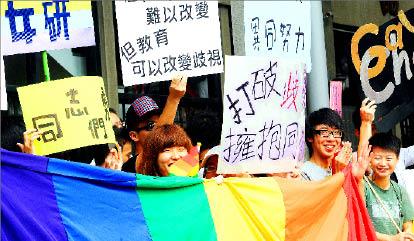 Members of National Taiwan University's Student Association yesterday hold a gay pride parade on campus to show support for the 2011 Taiwan LGBT Pride Parade scheduled for Saturday in downtown Taipei.
Photo: Fang Pin-chao, Taipei Times
"We want to send a message to our fellow students to raise awareness about gay rights issues and to end discrimination against lesbians, gays, bisexuals and transgender people," NTU Student Association academic affairs director Chen Liang-fu (陳亮甫) told a news conference before the parade began. "We think it's very important that people receive accurate information about gender diversity."
Another member of the student organization, who only wished to be known by his surname, Yang (楊), said that the action was inspired by discrimination they had seen in society.
"For instance, a lot of people still think that only gay people can get AIDS and that they are banned from donating blood," Yang said. "This is dangerous, because it could lead to heterosexuals thinking that they cannot get AIDS and overlook the necessary preventive measures when having sex."
The groups called for gender diversity education in elementary and junior-high schools, legalizing homosexual partnerships, gender-friendly dormitories and toilets on campus, and the promotion of gender diversity on campus.
Comments will be moderated. Keep comments relevant to the article. Remarks containing abusive and obscene language, personal attacks of any kind or promotion will be removed and the user banned. Final decision will be at the discretion of the Taipei Times.