Polls back Ma on China talks: MAC
MIXED SIGNALS: The Mainland Affairs council says the majority of the public approve of agreements such as the ECFA, despite a recent poll showing dissatisfaction
A series of surveys gauging public opinion have consistently shown strong public backing for institutionalized talks between Taiwan and China, the Mainland Affairs Council (MAC) said in a statement yesterday.
The statement followed the signing of a cross-strait nuclear safety cooperation agreement last week at the seventh high-level meeting since 2008.
The pact was the 16th bilateral accord sealed since President Ma Ying-jeou (馬英九) took office.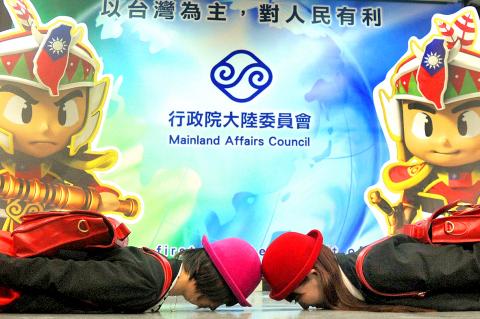 The Pujie Girls, Karren, left, and Jinyu, plank during a press conference yesterday for a new tourism promotion by the Mainland Affairs Council. "Planking" involves lying face down, often in bizarre places, for a photograph.
Photo: Lu Chun-wei, Taipei Times
The statement was also seen as a reaffirmation of the government's commitment to holding cross-strait dialogue and consultations on a dignified and equal footing, coming amid the recent controversy over Ma's proposal of inking a peace deal with China within a decade.
Citing the results of a string of opinion polls, the council said more than 58 percent of respondents have been satisfied with the results of institutionalized cross-strait talks in recent years.
For example, 78.8 percent gave a thumbs-up to the agreement on cooperation on crime-fighting and judicial assistance; 71.8 percent were satisfied with an aviation accord that has paved the way for direct flights; 61.1 percent approved of the Economic Cooperation Framework Agreement (ECFA) and 73.1 percent supported the agreement on intellectual property rights protection, the council's statement said.
The polls have also repeatedly indicated that up to 80 percent of respondents support the continuation of the cross-strait dialogue mechanism to resolve any issues that may arise from bilateral engagements, the council said.
Nearly 60 percent believe that agreements signed under the -current mechanism are conducive to Taiwan's overall development, it said.
All the accords signed since Ma became president have been undertaken with protection of the public's rights and interests and maintenance of orderly cross-strait exchanges, the council said.
The Ma administration has upheld the principles of putting "Taiwan first" being "beneficial to the public" in its engagements with China and has made sure the process of consultations was open and transparent, it said.
"We will continue to abide by these principles and fully respect majority public opinion in our engagements with China in order to forge greater domestic consensus for peaceful development of cross-strait ties," the council said.
Comments will be moderated. Keep comments relevant to the article. Remarks containing abusive and obscene language, personal attacks of any kind or promotion will be removed and the user banned. Final decision will be at the discretion of the Taipei Times.