Tibetans stage protest in Taipei
FREEDOM FIGHTERS: The latest wave of protests broke out in Tibet following the arrests of monks who were organizing an event to commemorate the 1959 uprising
Dozens of Tibetans living in Taiwan — as well as their Taiwanese supporters and a Thai supporter of the Tibetan cause — yesterday staged a 12-hour hunger strike in Liberty Square in Taipei to remember the nine Tibetans who have protested Chinese occupation of their country through self-immolation since March and they called on President Ma Ying-jeou (馬英九) to show more concern for human rights in Tibet.
Reciting Buddhist chants under the lead of several monks while sitting in front of placards bearing the names and pictures of those who sacrificed themselves for religious freedom in Tibet by setting themselves on fire, Tibetans and Taiwanese alike joined internationally coordinated action for "International Solidarity Day on Supporting Tibet" yesterday.
"People have chosen to sacrifice their lives to defend their country and their faith, and for us who are alive, it's our inevitable responsibility to carry on their mission," Dawa Tsering, chairman of the Tibet Religious Foundation of His Holiness the Dalai Lama — the de facto embassy of the Tibetan government-in-exile in Taiwan — told the crowd in the Liberty Square. "I hereby also urge Buddhists in Taiwan to lend a helping hand to your fellow Buddhists who are suffering to maintain their faith in Tibet."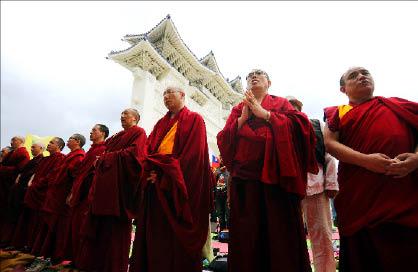 Tibetan monks who are living in Taiwan and their supporters stage a 12-hour hunger strike in Liberty Square in Taipei yesterday to commemorate the nine Tibetans who have protested the Chinese occupation of their country by setting themselves on fire since March.
Photo: Lo Pei-der, Taipei Times
The latest wave of protests broke out in Tibet, as well as among Tibetan communities around the world, following the arrests of more than 300 Tibetan monks at the Kirti Monastery in Sichuan Province, China, because they organized an event to commemorate the 1959 uprising against Chinese rule.
Among the protests, nine people — aged between 17 and 29 — set themselves on fire.
Besides mourning his fellow countrymen, Dawa also reminded Taiwanese about dealing with China.
He said that in the 1950s, the Tibetan government had signed a 17-point peace treaty with the People's Republic of China (PRC) to guarantee freedoms of religion, Tibetans' rights to their own culture and language as well as genuine autonomy for Tibet, "but the PRC unilaterally broke the treaty."
"Later on, when we [the government--in-exile] negotiated with China in recent decades, we've only asked for genuine autonomy as outlined in the PRC constitution, but the PRC never agreed to it," Dawa said. "This shows that the PRC is an insincere government."
He went on to remind Taiwan that it should take the example of Tibet as a precaution, as the world watches Taiwan's exchanges with China wondering if Taiwan could become the next Tibet.
Taiwan Friends of Tibet -president Chow Mei-li (周美里) said that so many people had sacrificed their lives to speak their minds "because we're not doing enough to end their suffering and improve the situation."
She called on the government to show more concern over human rights conditions in Tibet as cross-strait exchanges are enhanced.
"President Ma called on the Chinese government to follow the ideas of freedom and democracy as outlined by Sun Yat-sen during the Double Ten celebrations last week," Chow said. "Well, this is a chance for Ma to show he was sincere about what he said, as a Straits Exchange Foundation delegation has just departed for China for a new round of cross-strait talks in Tianjin, China."
Former deputy secretary--general of the Presidential Office, Yeh Chu-lan (葉菊蘭), also attended yesterday's event, expressing her admiration for those who had sacrificed their lives to try to gain freedom and human rights in Tibet.
"I know how hard it must be for their families and friends, since my husband, Deng Nan-jung [鄭南榕] also fought for the freedom of speech in Taiwan through self--immolation in 1989," she said. "Everyone who cares about human rights should show our support and concern for the nine Tibetan martyrs, as well as for their families and friends."
A 12-hour hunger strike began right after a brief press conference in the morning, which ended with Buddhist rituals to calm the spirits at 9pm.
Comments will be moderated. Keep comments relevant to the article. Remarks containing abusive and obscene language, personal attacks of any kind or promotion will be removed and the user banned. Final decision will be at the discretion of the Taipei Times.