Ma's successes touted at opening of campaign HQ
If they cannot take care of small things, such as the price of rice wine, how can they be trusted with bigger things, President Ma Ying-jeou (馬英九) said of the Democratic Progressive Party (DPP) during a speech in Yilan County yesterday.
During a ceremony for the establishment of an Yilan County joint campaign headquarters, Ma, who is seeking re-election in January said that during his time in office he had managed to bring down the price of rice wine from NT$180 to NT$25.
"The DPP was in power for eight years. Why didn't it do anything in that time? Why did the price of rice wine only fall after the Chinese Nationalist Party [KMT] came to power?" Ma said.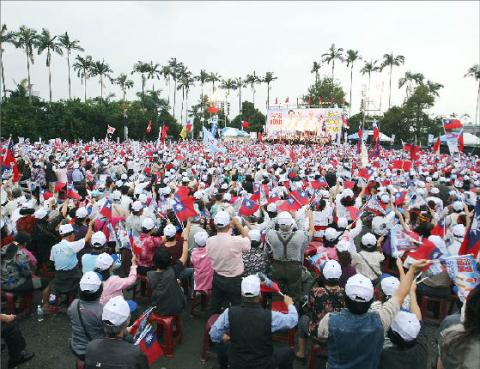 Supporters attend the opening ceremony for a joint Yilan County campaign office for President Ma Ying-jeou and Chinese Nationalist Party (KMT) Legislator Lin Chien-jung's -yesterday.
Photo: CNA
"We solved a problem that the DPP couldn't solve, that of people wanting to buy rice wine, but who felt it was too expensive, while it was too risky to buy privately made rice wine," Ma said.
"The DPP says I only have rice wine to show for my policy accomplishments, but I care about the people. If they are the concerns of every citizen, then it is an important matter for the Presidential Office," Ma said.
Nine people attending the ceremony took to the stage and discussed the improvements Ma's policies had made.
They cited free nursery schools for five-year-olds and free vocational high schools for low--income families as examples of successful policies under the Ma administration.
The youngest of the nine was five years old and the eldest 80.
Premier Wu Den-yih (吳敦義), Ma's running-mate for next year's -election, also listed -accomplishments made by the Ma administration over the past three years and used the metaphor of building a house to describe the process of national development.
"If you have a good designer, you don't change to a new one when you're in the middle of building," Wu said, adding that if you fire the experienced designer half way through, the successor might not be experienced enough to adapt to the project.
"Letting Ma be president for another term is the only way to make us all feel safe," Wu said.
Comments will be moderated. Keep comments relevant to the article. Remarks containing abusive and obscene language, personal attacks of any kind or promotion will be removed and the user banned. Final decision will be at the discretion of the Taipei Times.