Protein linked to autoimmune diseases found
A research team has identified a protein kinase — an enzyme that modifies other proteins — that could be a key to treating autoimmune diseases and even leukemia or lymphoma, the National Health Research Institutes (NHRI) said on Tuesday.
Tan Tse-hua (譚澤華), director of the institute's Immunology Research Center and head of the research team, said the protein kinase MAP4K3/GLK is found in higher-than-normal amounts in the blood of patients with systemic lupus erythematosus (SLE), or lupus, an autoimmune disease.
"The kinase MAP4K3/GLK acts like a faucet in the human immune system. The higher the amount of this substance in T cells, the more severe the autoimmune disease," Tan said.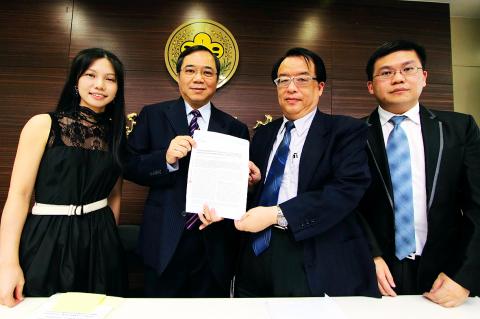 Tan Tse-hua, second left, director of the National Health Research Institutes' Immunology Research Center, is joined by other members of the research team that identified a protein kinase that could be a key to treating autoimmune diseases in this picture taken on Tuesday.
Photo: Wang Chang-min, Taipei Times
That means that the kinase MAP4K3/GLK can be used as a new diagnostic biomarker and therapeutic target for lupus patients, Tan said.
The findings were based in part on experiments in mice. Tan said MAP4K3/GLK-deficient mice had impaired immune responses and were resistant to experimental autoimmune encephalomyelitis — an experimental form of multiple sclerosis that scientists use in laboratory animals.
The discovery was published in the latest issue of Nature Immunology, a prestigious peer--reviewed magazine.
The research team, composed of researchers from the NHRI and Taichung Veterans General Hospital, has applied for patents for the discovery with Taiwanese and US authorities, and Tan said the US Patent and Trademark Office has already granted a provisional patent.
He said the research team would cooperate with the NHRI's Institute of Biotechnology and Pharmaceutical Research to develop target drugs based on the discovery.
Autoimmune diseases arise from an overactive immune response of the body against substances and tissues normally present in the body — where the body attacks cells that it mistakes for pathogens.
Tan said the NHRI research team worked with Taichung Veterans General Hospital in studying the conditions of more than 100 lupus patients.
"More than 80 percent of them endure debilitating pain because existing drugs do not function in a satisfactory manner," Tan said, adding that could change if the discovery leads to methods of treatment.
"We believe that so long as we can develop something to inhibit the secretion of MAP4K3/GLK, we will be able to effectively treat lupus and other automimmune diseases, and even leukemia," Tan said.
Comments will be moderated. Keep comments relevant to the article. Remarks containing abusive and obscene language, personal attacks of any kind or promotion will be removed and the user banned. Final decision will be at the discretion of the Taipei Times.