Tsai envisages peaceful resolution on Diaoyutais
LET'S TALK: On arrival in Tokyo, the DPP chairperson said she would take a rational approach to the dispute and would not ally Taiwan with China on the issue
Democratic Progressive Party (DPP) Chairperson Tsai Ing-wen (蔡英文) yesterday said in Tokyo that the DPP would try to resolve the dispute over the Diaoyutai Islands (釣魚台) with Japan "peacefully and rationally" and would not align with China on the issue.
"We would like to sit down with Japan to talk about it. We would deal with the issue rationally and peacefully," Tsai told a reporter upon her arrival at Haneda International Airport.
Tsai was quoted by Kyodo News Agency as saying that her approach toward resolving the issue would differ from that of President Ma Ying-jeou (馬英九) — who she said was aligned with China on the issue — and would be based on three principles.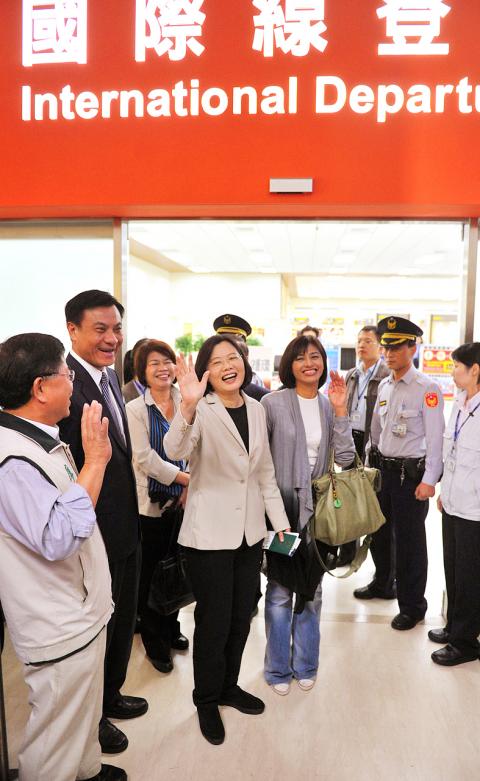 Democratic Progressive Party Chairperson Tsai Ing-wen, center, yesterday waves to supporters at the Taipei International Airport (Songshan) as she departs on a three-day trip to Japan.
Photo: CNA
She said those principles were that the Diaoyutais belong to Taiwan, that her party would handle the matter peacefully and diplomatically and that the DPP has ruled out "forming a common front with China in dealing with issues relating to the islands."
Tsai told reporters at the airport, where she was greeted by more than 100 overseas Taiwanese, that the main objective of her Japan visit was to discuss regional security with Japanese politicians as well as explain her "Taiwan Consensus" initiative and her China policy.
Tsai and her delegation are expected to meet former Japanese prime minister Shinzo Abe, former foreign minister Seiji Maehara, Vice Speaker of the House of Representatives Seishiro Eto, as well as visit the headquarters of the ruling Democratic Party of Japan and the main opposition Liberal Democratic Party.
Representative to Japan John Feng (馮寄台) was seen at the airport 30 minutes before Tsai's arrival, but was there to pick up his wife rather than the DPP's presidential candidate.
The representative office sent Deputy Representative Lo Koon-tsan (羅坤燦) to receive her instead.
During her three-day visit, Tsai is also expected to meet academics to discuss regional security issues, regional economic integration, the economic partnership between Taiwan and Japan and Taiwan's relations with China.
Prior to leaving for Japan, Tsai commented on a press conference held by Ma earlier in the day in support of his plans for social justice.
Ma appears to live in a time and space warp when he said that he was "stepping forward to rescue the country, which is going backwards," Tsai said at Taipei International Airport (Songshan).
"President Ma is the one who's to blame if this country is going -backwards," she said.
As for Ma's press conference yesterday morning, which was held to highlight his platform's commitment to social justice, Tsai said Ma "has talked a lot about [social justice], but we haven't seen any achievements yet."
Additional reporting by CNA
Comments will be moderated. Keep comments relevant to the article. Remarks containing abusive and obscene language, personal attacks of any kind or promotion will be removed and the user banned. Final decision will be at the discretion of the Taipei Times.