Lockheed lobbies for F-16s for Taiwan
MEMO POINTS: An e-mail sent to US lawmakers outlined the benefits of the sale and asked why China was so opposed to Taiwan getting new F-16s if they were irrelevant
Lockheed Martin Corp is helping arm US lawmakers for a renewed push to sell its new F-16 fighter jets to Taiwan, not just US President Barack Obama's administration's planned US$5.3 billion upgrade of old ones.
A Lockheed Martin official last week e-mailed an unsigned memo to lawmakers on Capitol Hill titled "Taiwan — The Benefit of New F-16C/Ds," two congressional staff members said.
Lockheed's memo to lawmakers was dated Sept. 22, a day after the administration told Congress that it was offering Taiwan a US$5.3 billion retrofit of 145 F-16A/B models sold in the 1990s. Administration officials said a decision had not yet been made on Taiwan's five-year-old request for 66 new F-16C/D models valued at US$8.3 billion.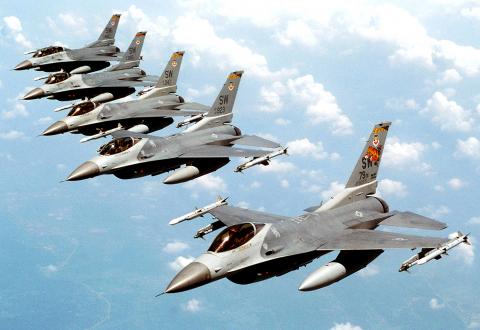 Five US Air Force F-16 "Fighting Falcon" jets fly in formation over the US en route to an exercise in this undated file photograph.
Photo: Reuters, USAF/Staff Sergeant Greg Davis
The Lockheed memo included "rebuttal points" to what Lockheed called the expected conclusion of a Pentagon report that the administration could use to try to defuse criticism of its decision not to release new F-16s to Taiwan.
Lockheed Martin neither confirmed nor denied having circulated the memo, a copy of which was obtained by reporters. It said a sale of F-16s would benefit not only the company, but generate more than 16,000 jobs in the US over five to six years, citing a study it had commissioned.
"Any questions regarding the sale of new F-16s to Taiwan should be referred to the governments of Taiwan and the US," Laura Siebert, a Lockheed spokeswoman, added in an e-mail.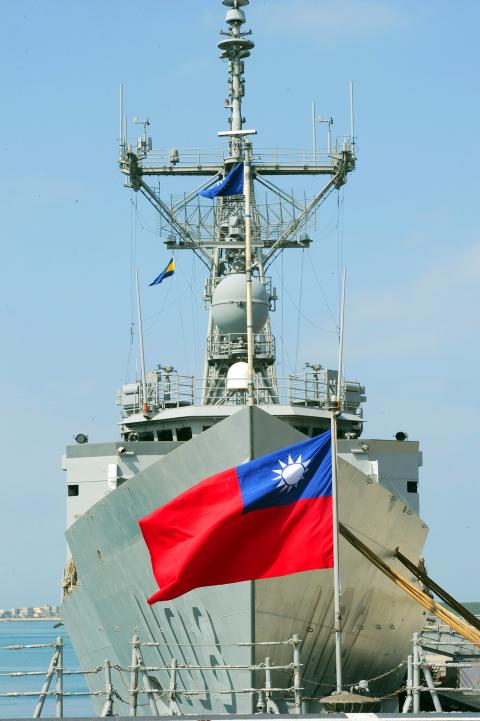 The Republic of China flag flies in front of a Perry-class frigate moored in a naval base in Penghu yesterday during a visit by a group of foreign reporters. Taiwan plans to upgrade its fleet of 56 homegrown fighters and buy more than 50 trainers as part of a major air force modernization package.
Photo: Sam Yeh, AFP
The company, the Pentagon's largest supplier by sales, typically depicts itself as a bystander in the foreign arms-sale process, patiently awaiting government decisions.
The one-page memo highlighted what some experts consider flaws in Obama administration decision-making on the F-16s. The memo raised questions that could put policymakers on the spot at a scheduled US House of Representatives Foreign Affairs Committee hearing on Taiwan on Tuesday.
The issue is politically sensitive for Obama. The 1979 Taiwan Relations Act requires Washington to provide for Taiwan's defense without regard to Beijing's sensitivities on the matter.
Republican presidential hopeful Mitt Romney accused Obama last week of having "caved" to China by denying Taiwan F-16C/Ds, calling this "yet another example of his weak leadership in foreign policy."
In the US Congress, 47 of the 100 senators and 181 of the 435 members of the House of Representatives have written to Obama since May to urge him to sell to Taiwan at least 66 late-model F-16C/D planes.
Advocates of new F-16 sales say they should be in addition to the upgrade of the old models.
The document distributed on Capitol Hill by Lockheed was based on the "expected conclusion" of the US Department of Defense report on the state of Taiwan's air power, and sought to refute it.
The classified Pentagon report itself was sent to Congress on Sept. 22, the same day as the Lockheed memo, 20 months after a congressional mandate for its delivery, a third congressional official said
"Taiwan cannot protect their F-16 aircraft or the runways from which they operate from the ballistic missile threat," the memo summarized the Pentagon report as finding, referring to how China might attack in any cross-strait conflict.
"So, new F-16C/Ds would not contribute to their deterrent capability and are not relevant," the memo summarized the report as saying.
However, Taiwan has some of the best-protected, hardened aircraft shelters in the region, the memo said.
In addition, Taiwan is advancing the "state-of-the-art in rapid runway repair technology" and routinely practices using open roadway stretches for fighters' launch and recovery to curb dependence on airfields, it said.
The Lockheed memo also took aim at what it called an expected "red herring" conclusion of the Pentagon report. It described this as the idea that Taiwan needed an aircraft capable of short takeoffs and vertical landings (STOVL) because of the Chinese missile threat to Taiwan's runways.
Only two STOVL aircraft models have been developed — the BAe AV-8 Harrier, which has been out of production since 1997, and Lockheed's own F-35B Joint Strike Fighter, which will not be available for export until the later part of this decade, the memo said.
Even if available today, the US administration would most likely refuse the F-35B to Taiwan because of its advanced radar-evading capabilities, the memo said.
The F-35, the memo added, could be construed as introducing a new level of capability, something that would conflict with a joint communique signed by the US and China in August 1982.
"If new F-16s are so irrelevant, why is China so vigorously opposed to their sale to Taiwan?" Lockheed's memo added in its rebuttal points.
Comments will be moderated. Keep comments relevant to the article. Remarks containing abusive and obscene language, personal attacks of any kind or promotion will be removed and the user banned. Final decision will be at the discretion of the Taipei Times.