Lu readies new group to stop nuclear plant
Before the next president enters office, construction at the Fourth Nuclear Power Plant should be stopped, former vice president Annette Lu (呂秀蓮) told a press conference on Sunday.
"I am prepared to launch the 'Save Earth, Save Taiwan Association,'" Lu said, adding that there would be a free showing of the Taiwanese folk opera Peng Lai Da Xian (蓬萊大仙), performed by the Ming Hwa Yuan Arts and Cultural Group on Friday in front of National Taipei University.
The show would seek to give greater exposure to the "Save Earth, Save Taiwan" movement, Lu said.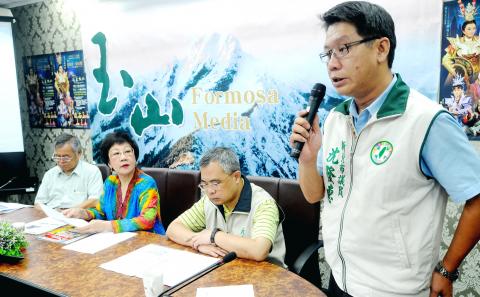 A group of environmental activists, accompanied by former vice president Annette Lu, second left, yesterday hold a press conference to push for a referendum in New Taipei City on the abolishment of the construction of the Fourth Nuclear Power Plant.
Photo: Lin Cheng-kung, Taipei Times
"My current goal is to move toward shutting down the Fourth Nuclear Power Plant before the next president is voted into office," Lu said, adding that Taiwan was capable of developing its industries without nuclear power.
In tandem with pan-green civil servants and other environmental protection personnel, Lu is pushing for a referendum petition on the closing down of the Fourth Nuclear Power Plant in Gongliao (貢寮), New Taipei City (新北市).
Lu said President Ma Ying-jeou (馬英九) should adopt a clear stance on the issue.
"I will definitely pay Ma a visit to discuss the subject of a referendum on halting the Fourth Nuclear Power Plant," Lu said.
Responding to claims that any such visit would be intended to force to clarify his stance on the matter, Lu said Ma happened to be the person who had the most say, adding that she hoped to visit other influential people once she had gathered enough support.
Lu said she hoped the referendum would be held only in New Taipei City, adding that only by halting the project would Taiwan be saved.
Kao Cheng-yan (高成炎), an academic working with Lu, said a petition drive for the referendum was being held at the Rueifang Railway Station.
The Taiwan Solidarity Union also expressed its willingness to participate in the petition.
Lu said the Formosa Weekly that she publishes would cease to print for a year so that she could focus on the campaign.
Asked if Lu was suspending the publication because it is losing money, Lu said almost everyone who started magazines lose money.
"I've sold everything under my name, but I feel proud, because I've done all I could," Lu said, adding that the Save Earth, Save Taiwan movement also required money.
"I'm always involved in non-profitable things," Lu said.
New Taipei City Council DPP caucus convener Chen Shih-jung (陳世榮) said that since New Taipei City had no legal mechanisms for the holding of referendums, the caucus would seek cross-party petitions and propose a draft New Taipei City residents voting self-regulation rule.
DPP New Taipei City Councilor Shen Fa-hui (沈發惠) said that as the proposal was already supported by more than half the municipality's councilors, the council should be able to review the matter when it convenes today.
Translated by Jake Chung, Staff Writer
Comments will be moderated. Keep comments relevant to the article. Remarks containing abusive and obscene language, personal attacks of any kind or promotion will be removed and the user banned. Final decision will be at the discretion of the Taipei Times.