Tsai holds closed meeting with powerbrokers in US
'IMPRESSIVE': Sources said the DPP chairperson knocked the socks off US congressional officials as she talked about the long-term relationship between the US and Taiwan
Democratic Progressive Party Chairperson Tsai Ing-wen (蔡英文) on Wednesday held closed-door talks in Washington with members of the administration of US President Barack Obama, defense officials, senators and members of Congress from both parties to discuss the future of US-Taiwan relations.
Participants in the meeting later refused to comment on the substance of the talks, but a US Department of State source said that they had gone well and that US officials had been impressed by Tsai's "eloquence."
A congressional source said that Tsai had been "impressive" and that she had worked hard to convince US officials that a Democratic Progressive Party (DPP) administration would not unnecessarily provoke Beijing.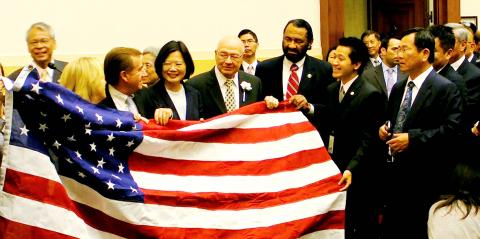 Democratic Progressive Party Chairperson Tsai Ing-wen is presented with a US flag during a congressional reception on Wednesday night in Washington.
Photo: CNA
"We could work with her. She has a pragmatic approach and understands the reality of the situation," the source told the Taipei Times.
At a crowded congressional reception on Wednesday night — about 20 representatives and senators from both sides of the aisle attended — Tsai thanked the US Congress for its "commitments to the security of Taiwan, particularly regarding arms sales that are so critical to our defense."
"My party believes that today we need to engage in a national dialogue to develop a full 'Taiwan consensus' that safeguards our sovereignty and brings us to the table with any and all others as equal partners," Tsai said.
Representative Ileana Ros-Lehtinen, chairman of the House of Representatives Foreign Affairs Committee, heaped praise on Tsai and presented her with a US flag that had been flown earlier in the day over the Capitol building as members rushed forward to be photographed with her.
The reception, held in a committee room in the Rayburn House Office Building on Capitol Hill, attracted officials ranging from American Institute in Taiwan Chairman Raymond Burghardt to a frail-looking Senator Daniel Inouye, the Democrat who chairs the Defense Appropriations Committee and who could be a major ally in the fight to persuade US President Barack Obama to sell advanced F-16C/D aircraft to Taiwan.
Also present was Representative to Washington Jason Yuan (袁健生), who delivered a short speech praising democracy and appeared genuinely pleased to greet Tsai.
The reception was organized and hosted by the Formosa Association for Public Affairs (FAPA), while FAPA executive Coen Blaauw acted as master of ceremonies.
"It is imperative that policymakers in Taiwan understand how Washington works," FAPA president Bob Yang (楊英育) said.
He said that thanks to Tsai's leadership, the DPP was again a viable political party ready to take the helm.
Tsai was scheduled to leave Washington for New York and Boston yesterday on a US tour that will take her to Texas and California.
Comments will be moderated. Keep comments relevant to the article. Remarks containing abusive and obscene language, personal attacks of any kind or promotion will be removed and the user banned. Final decision will be at the discretion of the Taipei Times.